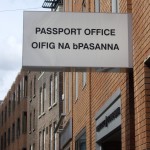 As we approach the busy holiday times of Easter and summer, it is important to make sure your passport is in date if you plan to travel abroad. Please check your passport, and the passports of anyone that may be travelling with you, especially children.
At this time of year there is always a seasonal increase in the demand for passports. Added to that, we have a significant increase in applications for Irish passports from the UK, with Brexit on the horizon. Extra staff have been recruited by the Passport Office but delays remain likely.
As of today, the turnaround times from Department of Foreign Affairs (DFA) for applications from Ireland are:
Passport Card: 5 working days
Passport Express: 16 working days
FIRST/Lost/Stolen/Damaged passport: 23 working days
It is important to note that applications for a first passport take significantly longer than renewals due to additional security measures.
The turnaround times are changing on a regular basis so the DFA advises allowing at least six weeks for your passport application. Delays are often encountered when forms are incorrectly completed and the six week recommendation allows time for any issues to be resolved.
For genuine emergencies there is a Rapid Renewal Service. Certain specific documentation is required for this and candidates need to make an appointment with the Passport Office on Lower Mount Street. There are limitations to this service, so it's best to check your passport sooner rather than later and get your application in on time.
The Department of Foreign Affairs offer a reminder service whereby you can register the date of your passport expiry and an email address and they will send you an email when your passport is due for renewal. This is a very useful tool and can be found on www.eforms.gov.ie/en/reminder/passport