Aspire Technology announces 150 new jobs in Dublin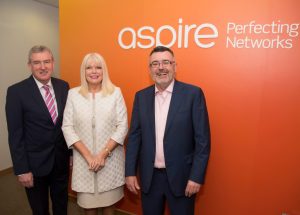 Aspire Technology, an independent, Irish-owned and managed ICT company today (Friday, 12 May 2017) announced 150 new jobs at their Irish headquarters in Sandyford, County Dublin. Founded in 2010, Aspire Technology delivers end-to-end mobile network lifecycle professional services and product solutions to the world's leading telecommunications, equipment and software providers.
The new positions, which are supported by the Department of Jobs through Enterprise Ireland, cover a broad spectrum of ICT and mobile telecommunications technologies and competencies. The roles include software developers, network engineers, design specialists and project managers at both experienced and graduate levels. Recruitment of the new positions is starting immediately including an extensive graduate recruitment programme.
As part of the expansion, Aspire Technology will be adding to their existing headquarters in Sandyford where they will build a state-of-the-art Network Support Centre. The new centre will serve over 16 million mobile customers across 32 markets during 2017. Plans are already in place to grow this facility to manage over 50 million mobile customers.
Announcing the new jobs, Bill Walsh, CEO and Founder of Aspire Technology said: "Aspire Technology's growth is based on our world-class people whose deep expertise, allied with the innovative and entrepreneurial culture within the company, has resulted in a significant increase in demand for our solutions. We are thrilled that we are doubling our team in 2017. We have amazing opportunities for ambitious candidates who love working with people and technology. Our culture is built on developing and supporting our teams to deliver exceptional expertise to our international blue-chip customers. This culture is reflected in our high levels of employee satisfaction and we are proud to be known in the industry as having an exceptionally high employee retention ratio."
Welcoming the announcement, Minister for Jobs, Enterprise and Innovation, Mary Mitchell O'Connor TD, said: "Today's announcement that Aspire Technology, an indigenous company, is creating 150 new high-tech, professional jobs in Dublin is exciting and very welcome. It is testament to the vision and hard work of everyone in Aspire Technology that the company has grown from a small start-up into a highly innovative and successful company. The Government through Enterprise Ireland looks forward to continued engagement with Aspire Technology as they scale their business in international markets. I wish Bill and all the team at Aspire continued success for the future."
Kevin Sherry, Executive Director, Enterprise Ireland concluded: "Enterprise Ireland's mission is to partner with innovative Irish businesses with the drive and ambition to scale internationally. Aspire Technology is a great example of an indigenous Irish ICT company with global ambition, competing and winning against strong competition in international markets. This expansion is testament to the ambition and capabilities of the company. Enterprise Ireland has been working with Aspire Technology since its establishment in 2010, and we are proud to be backing this exciting new phase in its development with support for 150 new highly-skilled jobs at their headquarters in Dublin."