Minister Mary Mitchell O'Connor Launches Report on Sexual Consent among Third Level Students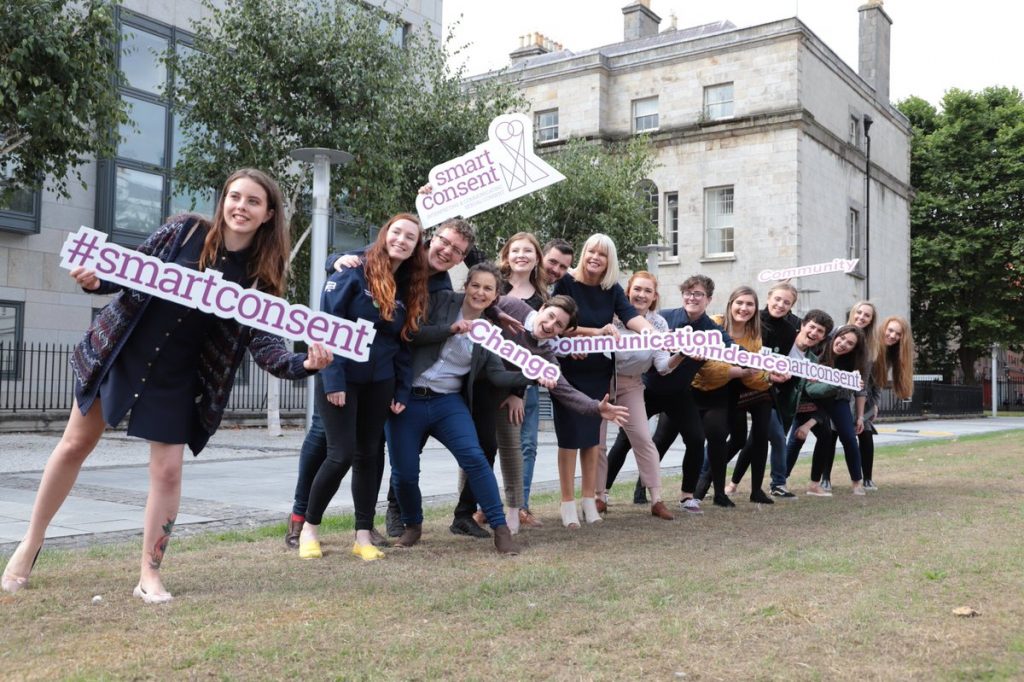 The Minister of State for Higher Education, Mary Mitchell O'Connor, TD, today launched a research report on sexual consent among third level students carried out by the NUI Galway SMART Consent research team in collaboration with their partners at four colleges.
The report, 'Are Consent Workshops Sustainable and Feasible in Third Level Institutions?' includes surveys with over 3,500 students conducted at NUI Galway consent workshops held at four colleges nationally. The new education and awareness campaign, Consent=OMFG (Ongoing, Mutual, Freely Given), includes four short interactive films on consent.
The Minister said 'All institutions have a duty of care to their students and I am delighted to see many of them integrate and support these empowerment and preventative initiatives, such as mandatory consent workshops. As Minister it falls to me to ensure that providing excellence in education depends also on providing a safe learning environment, free from sexual harassment, assault and the fear or threat of it. Therefore I welcome Dr.Pádraig MacNeela's report. It is a timely piece of research given that the National Council on Curriculum and Assessment is carrying out a major review of the relationships and sexuality curriculum."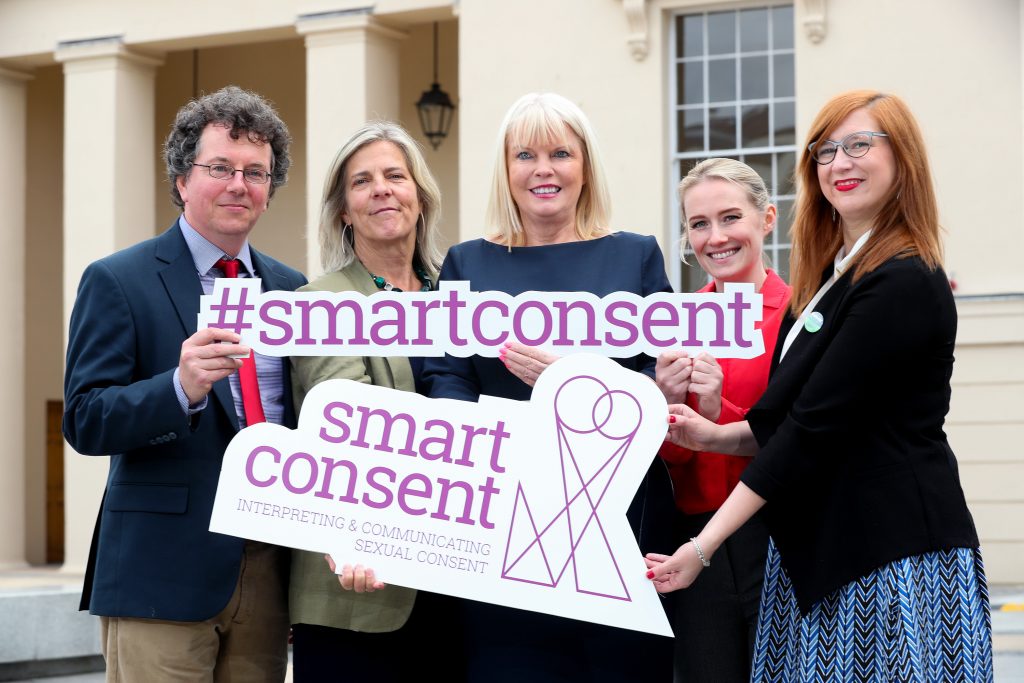 The report authors will disseminate their findings, Dr Pádraig MacNeela, who leads the SMART Consent initiative, Dr Siobhán O'Higgins, and Kate Dawson, Child & Youth Research PhD candidate, all from the School of Psychology, alongside Dr Charlotte McIvor and students from the O'Donoghue Centre for Drama, Theatre & Performance who will preview one of the Consent=OMFG consent films,
The report builds on a programme of research since 2013 that has explored the meaning of consent among college students, tested the effectiveness of the SMART Consent workshop, and surveyed students on sexual consent behaviours and attitudes (see www.nuigalway.ie/smartconsent )
The surveys included in the report shed light on important consent-related issues, including:
• Sexual harassment: In a survey of 632 students, 54% of First Year women students report experiencing sexual hostility or crude gender harassment at some point since starting college, rising to 64% among Second Year women students, and 70% of women students in Third Year or a subsequent year; the comparable figures for men are: 25%, 37%, and 40%.
• Perceptions of sex education at school: In a survey of 2,150 students, 71% of women and 63% of men said they were dissatisfied with the sexual health education they received at school (14% of women and 17% of men were neutral on this question; 15% of women and 20% of men were satisfied with their sexual health education at school).
• More lesbian, gay, and bisexual students felt that their sexual health education at school did not cover the topics they are most interested in (75%), compared with heterosexual students (66%).
• Perceptions of alcohol and capacity to give consent: In a survey, 753 students read 1 of 2 versions of a consent story where both characters were drinking: 20% considered the female character too drunk to give consent in the story where she consumed 14 standard drinks, while 33% considered the female character too drunk in the version where she consumed 28 standard drinks. 14% of the students considered the male character too drunk to give consent after 14 standard drinks, and 30% considered him too drunk after 28 standard drinks.
Commenting on the findings, Dr Pádraig MacNeela at NUI Galway said: "The survey findings show that the social environment in which consent takes place among college students is often unsupportive – most women experience harassment, a large majority of all students are dissatisfied with their sexual health education at school, and social norms for drinking minimise the true impact of alcohol on the capacity to give consent."
Dr Siobhán O'Higgins said: "the SMART Consent workshop is strongly associated with students feeling knowledgeable and skilled about sexual consent. The discussion and peer engagement strategies we use mean it is a workshop, not a class. We encourage students to find their own positive approach to consent, but also know that a full response to this issue involves action outside workshops too, to change the culture in college and society".
At the launch, Dr Charlotte McIvor previewed one of the 4 short interactive consent films she has developed with her theatre students for a new multimedia campaign that will help address this culture change. The film series was collaboratively written and researched by NUI Galway Drama and Theatre Studies students led by Dr. McIvor. Each interactive film gives the viewer control over characters' decisions at key points, leading to three possible endings to each film. The four films (co-directed by McIvor and Mick Ruane) portray sexual encounters from heterosexual and LGBTQ perspectives, as well as long-term and casual sexual relationships. Dr. McIvor offers: "We wanted to use film to capture the complexity of how consent is negotiated between partners and portray just how many decision points there are actually are within any given sexual encounter."
The first film, "Tom and Julie," can be viewed via this link: http://www.nuigalway.ie/consent=omfg/. The other three films will be made available publicly on the NUI Galway website and YouTube by staggered release in autumn 2018 as part of the Consent=OMFG campaign.
The research in the report has been supported by the NUI Galway Student Project Fund, and the PhD in Child & Youth Research.
To read the full report on SMART Consent, visit: http://www.nuigalway.ie/smartconsent