Your Guide To Job and Trainee schemes -
JobBridge – Tús Scheme – Work Placement Programme – Third Level & Retraining Places for Jobseekers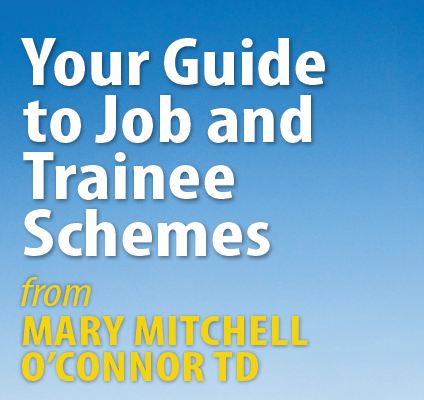 Mary Mitchell O'Connor on: 
JOBS & ECONOMY
Fiscal Responsibility
I support the Fiscal Responsibility Bill just as I supported the Fiscal Stability Treaty referendum. The learning of fiscal responsibility should begin at a young age. When I was younger my parents entrusted small, menial jobs around the house to me in return for a small bit of money. This made me appreciative, from a young age, of the cost of a commodity and my financiers. It instilled a belief in me that if one wanted something, one worked for it.
In the Celtic Tiger era these principles became lost on many people. Money was easily accessible due to reckless lending from the banks. Children were presented with copious amounts of money in return for very little effort. We were too busy to be concerned with budgets or to teach our children life skills. We were too busy to be concerned about putting the skills embedded in us into practice. The blame for this lies with the previous Government, banks and the regulator. We were flying high on a property bubble and we were encouraged to live beyond our means. That was the level of thinking about the sustainability of our budgets. It was only a matter of time before it all collapsed.
The collapse has affected us all, including the most innocent among us. In many ways these people suffer the most. Many people, who are in serious negative equity, struggle to put food on the table and send their children to school. Older people have lost their pensions, for which they spent 40 years saving. People who had invested their money in supposedly safe bank shares are now left with nothing.
It will not be easy for this Government to bring spending within sustainable limits and to balance the budget. We will get there through hard decisions which in the long run will leave this country in better shape.
Legal Services Regulation
I warmly welcome the spirit of the Legal Services Regulation Bill 2011. The Government is right to regulate the legal profession. Although I welcome the Bill I propose that the 11 members of the authority should not be selected by the Minister. This does not correspond to the make up of similar regulatory bodies. I would like for this section to be reviewed and allow the incorporation of stakeholders.
I would also recommend that the legislation include a provision requiring the authority to investigate the possibility of providing the legal framework for the creation of limited liability partnerships similar to those in England, wherein all solicitors in a firm have limited liability.
I am wholeheartedly in agreement with the proposed changes in the training and education section. The Bill allows other bodies to be accredited by the authority to provide the training services currently monopolised by the Law Society and the Honourable Society of King's Inns for solicitors. Law students in some regard are currently being exploited. The number of students sitting the FE1 examinations has risen significantly in recent years. The number of solicitors qualifying does not reflect the number of students who sit the examinations, even accounting for a percentage that may be unsuccessful. The only conclusion, therefore, is that a sizeable number of students completing their FE1 examinations cannot acquire an apprenticeship placement.
This is very unfortunate and difficult for the students concerned as FE1 examinations cost a student a total of €880. No grant or subsidy is provided for them and the qualification gained on completion of the FE1 examination is recognised only by the Law Society. In this regard, I welcome the requirement placed on the authority to investigate arrangements to facilitate the minimisation of duplication and consequent expenses incurred by a candidate in the taking of examinations in legal subjects. The current system is not student friendly. I look forward to action being taken to ameliorate the situation.
Industrial Relations
I broadly welcome the provisions of the Industrial Relations (Amendment) (No. 3) Bill 2011. This legislation will strengthen the constitutionality and the legal framework of EROs and REAs in light of deficiencies in the original legislation. It will ease the concerns of some of our most vulnerable workers by reinstating protection for workers in the relevant sectors. A balance needs to be struck between the interests of employees and employers. The previous legislation in this area was outdated and inflexible.
Evidence has proved that the sectors covered by the JLC and the ERO system have been hit hardest by this recession. There has been a 60% loss of employment in construction and 15% in the retail-wholesale sector. Retail and catering have seen a 20% loss in employment in the past three years. I understand the lack of demand in these sectors is clearly a key factor but labour costs represent a relatively high proportion of total costs. It is necessary to ensure that structures are flexible and adaptable in changing circumstances and that they reflect the realities of our modern economy. Future wage rates must be tailored to the specific circumstances and the needs of the Irish economy. The focus of reform should be on the process and procedures relating to JLCs and REAs. If the process and procedures are right,sustainable long-term wage rates will be established and the boom-bust cycle of the past decade broken.
The previous wage agreements were unsustainable and were out of sync with real growth rates in the economy and which pushed up costs elsewhere in the economy to the detriment of people's purchasing power. Reforming the process and procedures is of two-way benefit to workers and employers. The provision in the legislation allowing companies to derogate from the EROs and REAs in cases of financial difficulty will provide essential support to viable companies that are struggling due to the economic climate. Cafes, restaurants and family businesses are forced to close on a Sunday due to high staff costs imposed by the Sunday premium rate. My recommendation is that agreements should have a defined lifetime to prevent sectors becoming stranded with uncompetitive rates as economic circumstances change. Unions and employers would be forced to engage in realistic negotiations if they realised the existing agreement was due to wither within a defined timescale.
Patients Amendment Bill
This legislation is the outcome of a pro-business and pro-enterprise approach on the part of the Government.
A particular concern for Ireland is the new patent box regime due to come into effect in the UK in April 2013. The previous Governments decision to abolish the tax exemption for Irish patent royalties has left us susceptible to losing inward investment from high technology companies as the UK patent box regime will make that country's tax code more competitive in attracting foreign direct investment by global high technology companies. The UK Government proposes to introduce a 10% rate of corporation tax in respect of income from qualifying patents. Qualifying income comes under three headings: income from licence fees and royalties received for use of an invention, income from the sale of products which incorporate inventions from qualifying patents and income from the sale of patents. Furthermore, once a patent is granted a company can claim patent box benefits for any income arising between the date of application and the date on which the patent is granted, up to a maximum of four years prior to the date of granting.
This new regime possibly presents a competitive threat to Ireland. We need to send out a strong message that Ireland is open for business and welcomes foreign direct investment. The UK initiative on patents, alongside continued reductions in corporation tax rates, should receive our careful attention.
Jobs Initiative 2011
I welcome the new jobs initiative. This is the first step in getting Ireland back to work. It is not a grandiose press release but an honest effort to give hope and confidence to employers and the 430,000 people unemployed.
The effects of the downturn of the economy on people who are unemployed are wide ranging and in some extreme cases lead death by suicide. It is incumbent on a Government and on all elected representatives to give hope to our people. We cannot have our people drowning in negativity and this is what the new jobs initiative will do. It will help people to prosper and get back on their feet.
As an elected representative for Dún Laoghaire, I welcome the injection of cash into the tourism sector. We in Dún Laoghaire are working to the best of our abilities to entice people to our county and the business people and the community have come together to ensure that tourists come.
I welcome the extra €30 million for the summer works programme as this will provide an opportunity to upskill, retrain and undertake internships. I am aware that much more work needs to be done in our schools for our children to get the best education in a modern and secure environment, some schools throughout the country are in dire condition and that is not acceptable in 2011.
Consumer Credit Amendment Bill
I welcome the introduction of this Bill highlighting the scourge of moneylenders. A recent report claimed that one in 10 consumers has had to resort to moneylenders. People are forced to pay extortionate interest rates of up to 287% in some cases. There are 47 licensed moneylenders in Ireland at present. The high number of unregistered moneylenders is most concerning.
Nobody has been prosecuted for illegal money lending in the last seven years. I consider the penalties that are imposed on those who offer illegal moneylending services to be insufficient. A person who is found guilty of illegal money lending in the District Court faces a maximum fine of €3,000, a maximum prison sentence of 12 months or both. A person who is found guilty of illegal money lending in the High Court faces a maximum fine of up to €100,000 or a maximum prison sentence of up to five years. Given the level of APR that is levied by these companies, these fines do not represent an adequate deterrent.
People must be encouraged to come forward and report illegal moneylenders. Action must be taken against illegal moneylenders who target vulnerable people. The ongoing borrowing from illegal moneylenders is not just for one off occasions such as christenings, communions or conformations. A survey that was conducted this year by the Irish League of Credit Unions found that 40% of people borrowed money to pay bills in the last 12 months. Some 10% of the borrowers in question went to moneylenders to obtain loans.
Ireland is not unique in terms of the rise of moneylenders and associated problems. Short-term loans and pay-day loans have become prevalent in the UK. In 2009, it was estimated that credit amounting to L1.2 billion was provided by way of payday loans in that country. There is no limit on the amount of interest that may be charged on pay-day loans in the UK. The volume of such business has increased to approximately L2 billion in the last four years.
Personal Insolvency Bill
Our current bankruptcy legislation frustrates courage. Our entrepreneurs deserve our support, not our condemnation, but a balance must be struck.An entire industry has been established to assist our bankrupts in declaring elsewhere. They are referred to as bankruptcy tourists. It has been claimed that as many as 4,000 Irish residents per year file for bankruptcy in the UK, where an average of 1,392 people are declared bankrupt per week. This can be compared with just 30 declared bankruptcies in Ireland in 2010. Our bankruptcy laws compare negatively with the U.K. It is important that we watch to ensure that this legislation abates bankruptcy tourism.
We need to put a stronger system in place not just to support bankrupts, but also to support the fatalities they leave behind. Personal debt is a problem for many people. We need to put a stronger system in place not just to support bankrupts, but also to support the fatalities they leave behind. It is imperative that the Bill does not frustrate and alienate them further.
Micro-Enterprise Loan Fund Bill
I am in full agreement with the Bill. Small businesses are at the heart of every community, these business owners know their customers and they depend on them. Many of them provide credit. People with a great business idea have been refused finance and business owners who want to expand and have been refused credit even if it is a viable business. Ireland is known for its entrepreneurial spirit and the Government must support entrepreneurs in establishing companies. The Government must assist businesses to succeed and encourage business expansion.
This fund will be a lifeline for a small start-up company or an existing business trying to expand. The Microfinance Fund Bill is part of a range of Government initiatives to support businesses of various sizes and in various circumstances. The adoption of the personal insolvency Bill and the Credit Guarantee Bill will also provide assistance. The Bill will assist 5,500 viable businesses to obtain credit. These are businesses which would not have received credit otherwise. A total of 7,700 jobs will be created.
The Government is serious about job creation. The plan will improve support for businesses creating jobs and will remove barriers to employment creation throughout the economy. We have made progress on the foreign direct investment front. The success of IDA Ireland includes a net 6,000 increase in jobs in supported companies. Enterprise Ireland also has success stories with a 15% increase in the number of high potential start-ups in 2011. However, we must also help small indigenous businesses and the domestic market and the Bill will do so. There are also success stories in my own constituency and I congratulate Dún Laoghaire enterprise board on the 2,000 jobs in existence as a result of its work over the past number of years.
The 2012 IMD World Competitiveness Yearbook ranks Ireland's overall competitiveness in 20th place which is up four places from 2011. It ranks Ireland first in the world for investment incentives, the availability of skilled labour and the flexibility and adaptability of its people. This Government is working to make Ireland the best country in the world in which to raise children, to grow old and to do business.
Employment & National Internship Scheme
I am disappointed by the negativity of this motion. There is nothing positive in it with no concrete solutions offered. What we, and our young people who are thinking of emigrating, need is a bit of positivity. We have a responsibility to give them hope. This can be achieved through creative thinking and real solutions. The Government inherited an unemployment rate of approximately 14%. Ireland's competitiveness had dropped from 4th in the world to 24th. This Government has already shown its ability to tackle this problem by introducing real solutions. The twin policies of cutting VAT rates and employers' PRSI were widely welcomed in the context of job creation. The abolition of the joint labour committee employment regulation resulted in the creation of 490 jobs in just two months. A visa waiver programme was introduced intending to boost tourism to provide a jobs boost. I highly commend the plans to develop a micro-finance start-up fund that will provide start-up and expansion loans to micro-enterprise. I also commend the plans to ensure open public procurement for small to medium-sized enterprises, SMEs. This Government continues thinking creatively on how to create more jobs and this stance was reinforced by the announcement of Twitter establishing an international office in Dublin.
Medical Practitioners Amendment Bill
I welcome the establishment of this new division of the register of medical practitioners to be called the supervised division. It is established with the intention of smoothing the way for the recruitment of non-consultant hospital doctors from abroad, which is necessary considering the current difficulties relating to the recruitment of NCHDs. I commend the Minister on his efforts to recruit doctors to fill the posts which will become vacant on 11th July 2012. He has already succeeded in recruiting 200 potential candidates from Pakistan and India, thanks in part to an extensive recruitment drive abroad. Patient safety is also uppermost in the mind of this Government and only NCHDs who are suitably qualified and proficient in the English language will be employed.
I do propose that the minister should consider the possibility of extending to two years the pre-registration period for all junior doctors, which would help to combat the current shortage of junior doctors. Young Irish-trained doctors need to be kept in Ireland. Extending the pre-registration period to two years would bring practice in Ireland into line with that in the United Kingdom where the system requires junior doctors to work in foundation years 1 and 2 before completing their internship. The most visible shortage of junior doctors is in accident and emergency units. I suggest that if we require junior doctors to work for a second year, it should be spent in an accident and emergency unit under the supervision of a consultant. The provision of adequate training for junior doctors should also be addressed.
Changing the system to a two-year registration scheme could contribute to the efforts to retain junior doctors in Ireland. The services of junior doctors are being lost, since many of them leave the country after their one-year internship.