Opening Address: Trinity College Dublin – THE NEW ACADEMIC TRACK FOR INTERNSHIPS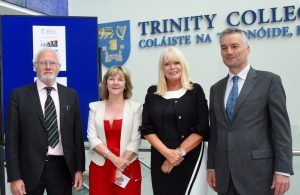 Minister Mary Mitchell O'Connor being greeted by the Provost Dr. Prendergast, Prof Hennessy and Prof Gill at the launch of the National Academic Track for Internship, TCD, Dublin. Photo: David Coleman
Distinguished Academics and HSE representatives. And to the new head of the Trinity School of Medicine, Prof Michael Gill.
I am truly delighted to be invited here this morning, to meet with you all as you embark on one of the most exciting developments in Irish medicine and innovation. And especially on the morning that this esteemed campus is named as one of the most beautiful on the planet! Congratulations!
As a mother, having lived, first hand, through the blood, sweat, tears and commitment that a trainee doctor needs to apply to their medical qualification I commend you all on your huge achievement – Being selected as the inaugural group of 24 junior doctors to undertake the first of its kind in Ireland, The Academic Track for Internship.
I know you started your programme in July and I hope you have settled in and are relishing the challenge that lies in front of you. This is the first step on your career path from academic intern to a consultant clinician scientist. Exciting.
On reading some of your testimonials where you recount your areas of research, I was inspired and heartened that the future of our healthcare system will benefit from your innovations and the discoveries your research will bring.
As the first class of the The Academic Track for Internship, it was inspiring to read that approximately a third of you expressed an interest in undertaking the innovative pathway. You will lead the charge in enabling Ireland to remain one of the top innovation nations in the world.
It is a great opportunity for all of you to gain valuable experience in either clinical research, further medical education or in leadership and healthcare management.
You, as the chosen 24 interns, will make valuable connections with clinical researchers, academic and healthcare leaders that might not have otherwise happened until much later in your career.
I am sure many of you would have sought our similar programmes in the UK or further afield, so I am delighted as the Minister for State with responsibility for Higher Education to be able to facilitate your academic career in Ireland. Retaining medical talent in Ireland helps us address the skills shortage in academic medicine.
As you are aware, Health Research is critical in providing essential information to government and policymakers. Health research is an investment in our future and it ensures a better health system and a better health outcomes.
Health research provides us with the evidence to address key societal challenges – such as an ageing population and the increases in chronic diseases. Research activity attracts and retains high-quality health professionals in the system. With global shortages in all areas of medicine and patient care, we need a vibrant research-active system to attract and retain skilled personnel.
The HSE is investing €250,000 in this programme. NDTP hopes that the availability of the academic track internships in Ireland will contribute to the retention of medical graduates of Irish medical schools who have academic as well as clinical ambitions. Furthermore, this initiative provides an early and dedicated focus on research skills among doctors.
I sincerely hope that many of you will go on to undertake further and more sizeable academic research during your careers and work as academic clinicians and that we all will be reading about you and your medical advancements in the years to come.
Brexit is set to have a significant impact on higher education in Ireland and the long term effects of it on the research landscape both in Europe and Ireland are not yet clear. Every year a considerable number of Irish medical students leave the country on graduation.
I see this development within the School of Medicine in Trinity College Dublin as an advancement to mitigate against any negative effects of Brexit and undoubtedly will strengthen the opportunities for Medicine undergraduates and postgraduates.
It is imperative that the Government does everything within its power to ensure opportunities exist for our future academic clinicians that keeps Ireland at the forefront of medical innovations.
I believe the future of clinical research in the country will be in safe hands, your hands. Programmes such as this are the perfect way to harness your exceptional abilities to benefit all our inhabitants. I have no doubt that patients both here in Ireland, and globally will thank you for your dedication in years to come.
I want to reiterate Prof Martina Hennessey's remark, you are the stars. Go forth and shine in the field of medicine. I wish you every success during your internship and look forward to hearing and reading about you in the future.
Thank you.