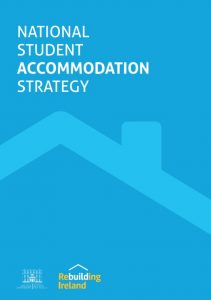 The Minister of State for Higher Education, Mary Mitchell O'Connor T.D. and the Minister of State with special responsibility for Housing and Urban Development, Damien English T.D. today released the end Q3 2018 progress report on the National Student Accommodation Strategy. The National Student Accommodation Strategy complements the initiatives being taken by the Minister for Housing to increase housing supply under Rebuilding Ireland.
The National Student Accommodation Strategy (NSAS) includes 8 key targets and 27 actions to support the delivery of an increased level of supply of Purpose Built Student Accommodation (PBSA) and an increase in take-up of digs accommodation. The target as set out in the NSAS is the provision of 7,000 bed spaces by end 2019 and a total of 21,000 additional PBSA beds by 2024. We remain on track to meet, if not exceed, this number.
As of the end Q3 2018:
 5,531 PBSA bed spaces had been completed
 4,825 further bed spaces were under construction
 7,901 additional bed spaces had planning permission granted
 472 were at the planning permission application stage
These projects combine to a total of 18,729 PBSA bed spaces.
Minister of State for Higher Education, Mary Mitchell O'Connor T.D. said, "In light of the impact that the housing and accommodation shortages have had on both students and their parents, I am particularly delighted to report that we now have over 5,000 extra bed spaces for students since the launch of this strategy.
I remain committed to ensuring that the availability of accommodation is not a factor in a student's choice of where to study. Since the end of July an additional 2,541 bed spaces have been made available for this academic year. Not only does this mean that over 5,000 students have now been accommodated safely, but that the strategy is working."
Minister of State Damien English T.D. said, "I am pleased to note that in excess of 5,500 bed spaces have been completed. Although student accommodation is not included in the official statistics for housing completions, every one of these beds brings relief to the housing market generally. Each one of these bed spaces frees up properties in the general rental market.
Under Rebuilding Ireland we are committed to providing 25,000 homes per annum and we are making excellent progress in this regard. The figure for student accommodation will be in addition to this and will contribute to bringing some stability to the market.