Deansgrange Library to pilot "My Open Library" initiative – Min. Mitchell O'Connor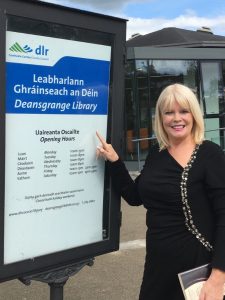 Deansgrange Library will pilot the "My Open Library" initiative, announced by the Minister for Rural and Community Development, Michael Ring, Minister Mitchell O'Connor was delighted to confirm.
The ambitious five year Library Strategy includes the complete abolition of library fines and the roll out of the "My Open Library" initiative which will see a significant increase in library opening times in 100 of the 330 library branches around the country.
Minister Mitchell O'Connor, Minister of State for Higher Education and Dun Laoghaire TD said: ""This is great news for library users in Deansgrange and further afield. With the abolition of all fines and increased opening hours in many of our local libraries, I hope that more people will visit and use their local libraries.
"The libraries involved in the My Open Library initiative will see library opening hours increase from current normal working hours to: 8am -10pm, seven days a week, 365 days a year. Libraries will continue to be fully staffed during the normal working hours and there will be no decrease in staffing hours under this arrangement.
Deansgrange library will be one of the initial tranche of libraries in which My Open Library will be rolled out and the extended opening hours will be implemented by autumn of this year. The remaining libraries to avail of the initiative will be identified and during the course of the strategy and I hope to see more libraries in Dun Laoghaire Rathdown benefitting from this wonderful initiative.
"The increase in opening hours is made possible by the provision of self-service technology; library users will be able to scan books in and out when the libraries are unmanned. Libraries will continue to be fully staffed during normal working hours.
"As an avid reader myself, as well as a former School Principal, Teacher, Mother and Grandmother I value the role our libraries have in education, culture, personal development and entertainment. Despite the prevalence of electronic readers and e-books, membership figures show that libraries are more popular than ever. Increasing access to libraries, with these extended hours and the abolition of fines, will help to further grow the membership of libraries across Dun Laoghaire Rathdown.
"Last year, Minister Ring allocated €3.4 million for self-service technology, books and hot desking facilities in preparation for the rollout of this strategy. Local authorities invested a further €1.2 million. I know there will be further investment by Minister Ring in library buildings, improving services and technology in order to ensure that our libraries