Minister for Higher Education Mary Mitchell O'Connor addressed IIEA Conference on Higher Education Funding in Ireland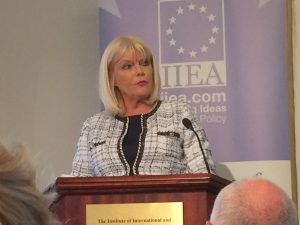 The Minister for Higher Education, Mary Mitchell O'Connor, T.D., today (13th June, 2018) gave a closing address to the Institute of International and European Affairs (IIEA) conference on future funding of Higher Education in Ireland.
This conference presented a range of expert speakers on higher education including former Minister for Education and IIEA chairperson Ruairi Quinn and Peter Cassell's author of the expert report titled Investing in National Ambition: A Strategy for Funding Higher Education.
In addressing the conference Minister Mitchell O'Connor thanked Peter Cassell's for his excellent report and contribution to the dilemma – how do we fund our Higher Education system? "The report presented by Peters Cassell's and the expert group clearly identified that our higher education sector presents a significant and complex public policy issue , requiring substantial increased investment and as such does not allow for a simple or straightforward solution. The report was clear in its conclusion that our current funding model is not sustainable. It called for the development of a clear funding strategy for the sector that will deliver a robust and steady base of funding to sustain the system into the future. My Department and I have been working tirelessly since to achieve the goal of making progress on building the future funding model for Higher Education."
In response the Government have already commenced a significant programme of investment in Higher Education. It is important to be clear that that a new funding model is already under construction and is being implemented on a phased basis over the next three years.
The reduction of approximately one-fifth in Higher Education Expenditure during the crisis years from 2008 to 2014 has been followed by a cumulative 9% increase subsequently.
In discussing higher education funding Minister Mitchell O'Connor advised that:
"In total an additional €100m has been invested in higher education this year than when the Cassells report was published. The Department is endeavouring to build on this investment for 2019 and beyond. This additional funding has allowed for targeted initiatives in higher education including technological university development, skills programmes, performance and innovation funding as part of the reform of the funding model, promoting access to higher education, and apprenticeship costs in the sector. This will also allow for places to be provided for 2,100 additional full-time students in 2018."
The Department are also working with the Department of Public Expenditure and Reform to reform the National Training Fund in response to issues raised by employers and, indeed, education providers, in last year's consultation process.
This work has already produced a successful return. The fund levy was increased by 0.1% to 0.8% in Budget 2018 and – subject to the delivery of agreed reforms in order to ensure that the National Training Fund is more closely aligned to and responsive to the needs of the economy and employers – by a further 0.1% in both 2019 and 2020.
This measure will allow for an additional expenditure of €47.5 million this year as part of the Exchequer-Employer Funding Mechanism, bringing the total allocation for 2018 to €415m. It is estimated that the proposed increases to the levy in 2019 and 2020 will create additional fiscal space of €104m in 2019 and €165m in 2020.
The Minister also highlighted the significant capital investment by the Government through the National Development Plan and increased exchequer investment.
"I recently announced key progress on the appointment of design teams for the government's Public Private Partnership (PPP) programme for the higher education sector. A capital envelope of €200m was provided for in the 2016-21 Capital Plan for this programme. This PPP Programme is being rolled-out alongside €367 million in funding from the Department of Education and Skills for investment in higher education over the period 2018-2021."
Furthermore the Department in consultation with key stakeholders will look at it reviewing the latest QS rankings and will work with the HEIs to deeper understanding of the key drivers of Ireland's rankings – better explain the factors driving performance. This will also enable us to identify where we believe our approach could be improved and indeed also seek to ensure that we do not miss opportunities to further develop our education system.
The comprehensive and holistic approach being taken to reform Higher Education, examining current and capital higher education funding and reform will contribute to the overall development of a long-term sustainable funding model for the sector.