Qualifications and Quality Assurance (Education and Training) (Amendment) Bill 2018 completes Report Stage in Seanad Éireann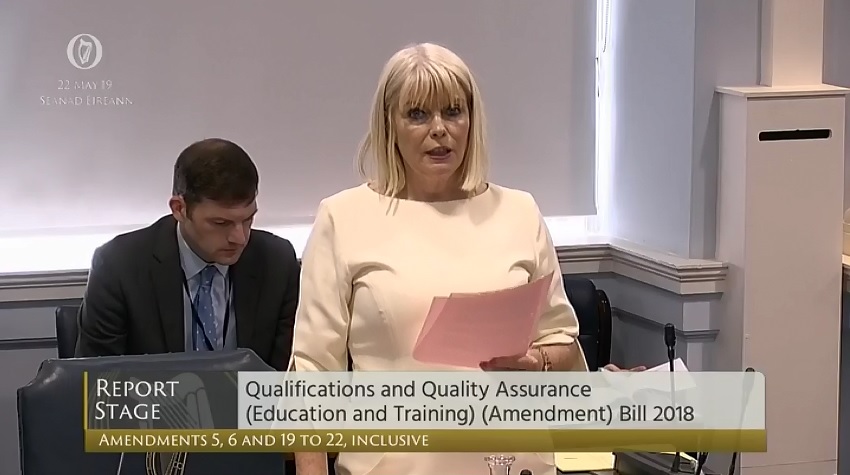 RCSI recognition as a university, English Language College regulation, Learner and teacher protection amendments all welcomed by Minister
Minister for Higher Education Mary Mitchell O'Connor T.D. today (22 May 2019) welcomed the completion of Report Stage of the Qualifications and Quality Assurance (Education and Training) (Amendment) Bill 2018 in Seanad Éireann.
This Bill will amend the Qualifications and Quality Assurance (Education and Training) Act 2012 which established Quality and Qualifications Ireland (QQI), the national agency with responsibility for external quality assurance and qualifications across the further and higher education sectors.
The Bill provides for a new mechanism for higher education institutions, such as the Royal College of Surgeons in Ireland, to apply for university designation. A higher education institution that meets particular eligibility criteria, such as having statutory degree-awarding powers and an established reputation for excellence, will be eligible to apply for authorisation from the Minister of the day to describe itself as a university. Any such application will be subject to an independent evaluation process to inform the Minister, prior to a decision being taken.
The Minister said: "I have visited RCSI on many occasions and met with staff and students. I am very aware of its outstanding work in Ireland and abroad. RCSI has made and continues to make a unique contribution to Irish higher education, healthcare, research and society. I am pleased to have brought forward this amendment."
The Bill also contains a number of key provisions which are intended to strengthen QQI's role as a regulator of quality in the English language education sector. These provisions include measures to facilitate the introduction of the International Education Mark (IEM), a core component of the Government's policy for the English language education sector, and to strengthen the terms and conditions of employment in this sector.
The Minister said: "I want our English language sector to be world renowned. Ireland should be at the top of the list for international students wanting to learn English. To achieve this, we need to ensure that this sector is regulated properly. Students should be able to have the utmost confidence that the teaching, practices and environment in the language school in which they enrol meet robust and recognised quality assurance standards, and are compliant with employment law.
"The measures that I am bringing in will help underpin the mediation process which I established with all the stakeholders in the English language education sector. This is being carried out by Mr. Patrick King with the objective of establishing agreed employment standards for the sector."
The Bill also contains measures to establish a new national Learner Protection Fund, contributed to by 'obligated providers'. This Fund will strengthen the existing system of learner protection and benefit students by ensuring that they are allowed to finish their programmes of education and training in the event that their programme ceases prematurely.
The Bill now also empowers QQI to include a requirement that any providers seeking to adopt the IEM would adhere to a Code of Practice. This relates to HR policies and procedures for the recruitment, training, employment and continuing professional development of teachers in the English language education sector.
QQI is being given additional powers to assess the corporate fitness of providers that engage with the authority, including a provider's compliance with existing employment law.
QQI will have the power to withdraw the mark from a provider where it has been shown or proved that a provider has failed to comply with its obligations under employment law. This is an important step to further strengthen the regulation of the English language education sector. Only those providers that meet the robust quality assurance procedures of QQI, and who are compliant with employment law, will be allowed to carry the mark.
The Minister said: "One key provision of the Bill will enable QQI to address the issue of academic cheating. The QQA Bill creates an offence of advertising or providing 'essay mills' services and other forms of cheating such as sitting an exam for a candidate. We require our institutions and their examination processes to be beyond reproach."
In conclusion the Minister said: "This Bill is an important step to underpin the quality agenda in Irish further and higher education. QQI must be a strong, effective and responsive regulator and this Bill will empower the authority to that end. I look forward to bringing this Bill to Dáil Éireann."
The Bill is available on the Oireachtas website at the following link – https://www.oireachtas.ie/en/bills/bill/2018/95/