Over €33,000 in Funding For Rathmichael Woods Walking Trail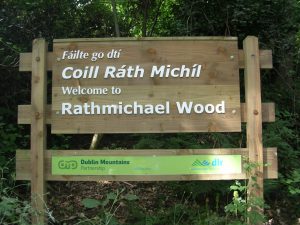 Minister Mary Mitchell O'Connor has welcomed the announcement of over €33,000 in funding to support rural recreation in Rathmichael.
"Today my Fine Gael colleague Minister of State for Regional Economic Development Michael Ring announced the provision of funding totalling €4.455 million for rural recreation projects as part of the Government's programme to support rural development. The funding will facilitate the development of new recreational facilities and the maintenance of existing recreational infrastructure across 75 projects throughout Ireland".
"Dun Laoghaire Rathdown County Council is the only Dublin local authority to have secured funding under the scheme. €33,666.94 has been awarded to finance enhancements to the Rathmichael Wood Walking Trail. While people automatically connect Dun Laoghaire with marine tourism, walking and hiking tours are growing in popularity and attracting new visitors to the area. Enhancements to the walking trail will help improve the visitor experience, making Rathmichael Wood an even more attractive destination."
"The importance and popularity of recreational pursuits in the Irish countryside continues to grow and develop and there is great potential to benefit tourism in Dun Laoghaire. Figures from Fáilte Ireland reveal that in 2014, close to 1.2 million visitors to Ireland took part in hiking or cross country walking and spent in the region of €915 million in the Irish economy during their stay".
"Investment in recreational facilities has a proven effect in boosting local economies and assisting in the creation and retention of employment in the hospitality, tourism and services sectors. Today's announcement comes just weeks after the Government launched a new €10 million Town and Village Renewal Scheme as part of its programme for rural development.
"We are working to ensure that the economic recovery, which is now underway, reaches all parts of the country and the benefits are felt inside every doorstep and in every community."