Library Services in Dun Laoghaire Rathdown to receive investment of over €100,000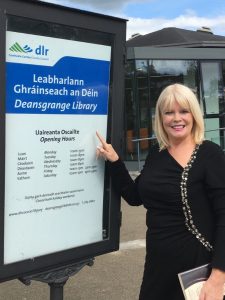 Library services in Dún Laoghaire Rathdown are to receive €100,800 in extra funding, Fine Gael Minister of State for Higher Education, Mary Mitchell O'Connor, has said.
The funding was announced this week by the Minister for Rural & Community Development, Michael Ring TD.
Minister Mitchell O'Connor said "This represents an unprecedented Government investment in our public libraries. The funding will allow for the modernisation of our library service and for the extension of library opening hours."
"The investment package comprises €75,600 from the Department of Rural and Community Development, supplemented by additional funding of €25,200 from Dun Laoghaire Rathdown County Council. This funding is in addition to significant funding already provided by Minister Ring's Department for public libraries here this year."
"A library is much more than a building with books on a shelf, it is a community hub, a centre of knowledge and learning, a treasure trove of literature, information and technology. This investment in libraries in Dun Laoghaire Rathdown will greatly enhance the range and quality of services available to users."
"As an avid reader myself, as well as a former School Principal, Teacher, Mother and Grandmother I value the role our libraries have in education, culture, personal development and entertainment as well as providing access to IT facilities and meeting spaces."
"In the days of electronic readers and e-books it is heartening to see that rather than libraries declining, they continue to grow. In Dun Laoghaire Rathdown, library membership grew by over 20,000 between 2010 and 2015, testament to the key role our libraries play in our communities."
"This investment will enable the implementation of our new public library strategy which will be launched early next year and which will be focused on modernising the public library service in Dun Laoghaire Rathdown. It's an ambitious strategy which is aimed at increasing library membership and usage of our public libraries.
"This programme of funding demonstrates Fine Gaels continued commitment to the public library service over the coming five-year period of the strategy."
"I've traveled the world twice over,
Met the famous; saints and sinners,
Poets and artists, kings and queens,
Old stars and hopeful beginners,
I've been where no-one's been before,
Learned secrets from writers and cooks
All with one library ticket
To the wonderful world of books." – Janice James