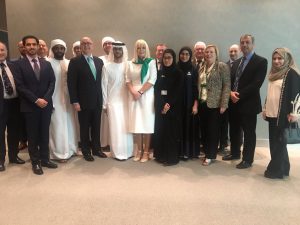 Mary Mitchell O'Connor T.D. Minister of State for Higher Education has concluded a hugely successful St. Patrick's Day trip to the Middle East. She visited Oman and the United Arab Emirates.
The Minister said, "I am truly delighted with how our St. Patrick's Day mission went. One of our great strengths as a country is our people and during my time in Oman and the UAE I have met some inspiring and motivated Irish entrepreneurs and business people who are strengthening our bonds with this region. I felt this week that my presence in the Gulf will only complement the ongoing work of our Embassy network and state agencies in Oman and the UAE, in promoting awareness and confidence in Ireland's economy, as well as showcasing what we have to offer as a nation".
A key priority of the Minister's visit was to highlight the excellent quality of the Irish Higher Education sector.
During the visit to Oman the Minister met with her counterpart, the Minister of Higher Education, Dr. Rawya Saud Al Busaidi to discuss opportunities to further deepen the relationship between the higher education sectors in Ireland and Oman. The two Ministers discussed areas of academic and student exchange and the areas of research and development.
Dr.Rawya Saud Al Busaidi was fascinated to hear about the Minister's recent passing of the Technological Universities Bill as she is keen to merge their Advance Science Schools with their Technological Universities to create Technological Hubs within Oman.
Dr Rawya Saud Al Busaidi has confirmed she will travel to Ireland in May to meet with the Minister and visit some of the new sites for Ireland's Technological Universities.
Ireland currently hosts over 500 Omani students in our Higher Education Institutions.
In the United Arab Emirates, Minister Mitchell O'Connor met with the UAE Minister for Higher Education and Advanced Skills, Dr. Ahmad Bin Abdullah Humaid Belhoul Al Falasi. The UAE Minister was keen to explore how Ireland had strengthened its connections with industry and how it was developing future skills.
At the meeting Minister Mitchell O'Connor also highlighted the work that she and her officials were doing in the area of research and innovation within the Higher Education sector.
Dr. Ahmad Bin Abdulla Humaid Belhoul Al Falasi has also confirmed that he will travel to Ireland in June to meet with the Minister to visit some leading institutions that are spearheading the way in building stronger links with industry and creating work-ready graduates in new technologies.
The Minister made time in her busy schedule to visit the Royal College of Surgeons Ireland – a most renowned and much loved institution in Dubai. RCSI is a flagship institution in the UAE since 2006, with 540 graduates. She spoke with the graduates and lecturers on how the RCSI can enhance their footprint within the UAE.
While in Abu Dhabi the Minister went on a tour of Khalifa University where currently they have two Irish Deans. She met with students, both male and female, studying STEM subjects and heard first hand their experiences of doing both internships and studying in Ireland.
While in Dubai before travelling to Abu Dhabi the Minister met with Nadia Verjee, Senior Vice President of EXPO 2020 Dubai and in person the Minister confirmed Ireland's participation in the event.
While education formed the central part of this five-day visit, the Minister also participated in receptions for the Irish communities and met with Irish businesses and business groups in Oman, Dubai and Abu Dhabi.
She visited Spinney's Supermarket with Michael Hennessy from Bord Bia and first hand saw the huge array of Irish produce on the shelves. Over 50 products from Ireland have pride of place on the shelves of this UAE institution.
The Minister met with David Boyce, Aishling McDermott and Siobhan Naughton from Tourism Ireland who introduced the Minister to leading practitioners in tourism to Ireland. They discussed the huge benefit to Irish tourism that the 28 direct flights from the UAE to Ireland have had and also the huge benefit of the lifting of the visa requirements for Emirati citizens since January 31st 2018.
The Minister concluded her visit to the UAE by saying, "We have a huge amount in common. We are both hi-tech, knowledge based and ambitious countries. In my opinion we are natural partners. There is a very strong interaction at political level between our two countries and I sincerely hope that my St Patrick's Day visit, will in some small way have strengthened our ties. There have been four Irish Ministerial visits since last November and I hope that my visit has solidified our warm and close relationship. I am delighted to have met with the Expo 2020 team while I was here and to have shared with them first-hand how committed we are to Expo 2020, with innovation being the hallmark of Ireland's participation. I am genuinely thrilled that both Ministers for Higher Education and Infrastructure have confirmed a return visit to Ireland where we will be able to show them first hand the excellence within our Higher Education Institutes".