Minister Mitchell O'Connor announces €153 million increase in funding for Tertiary Education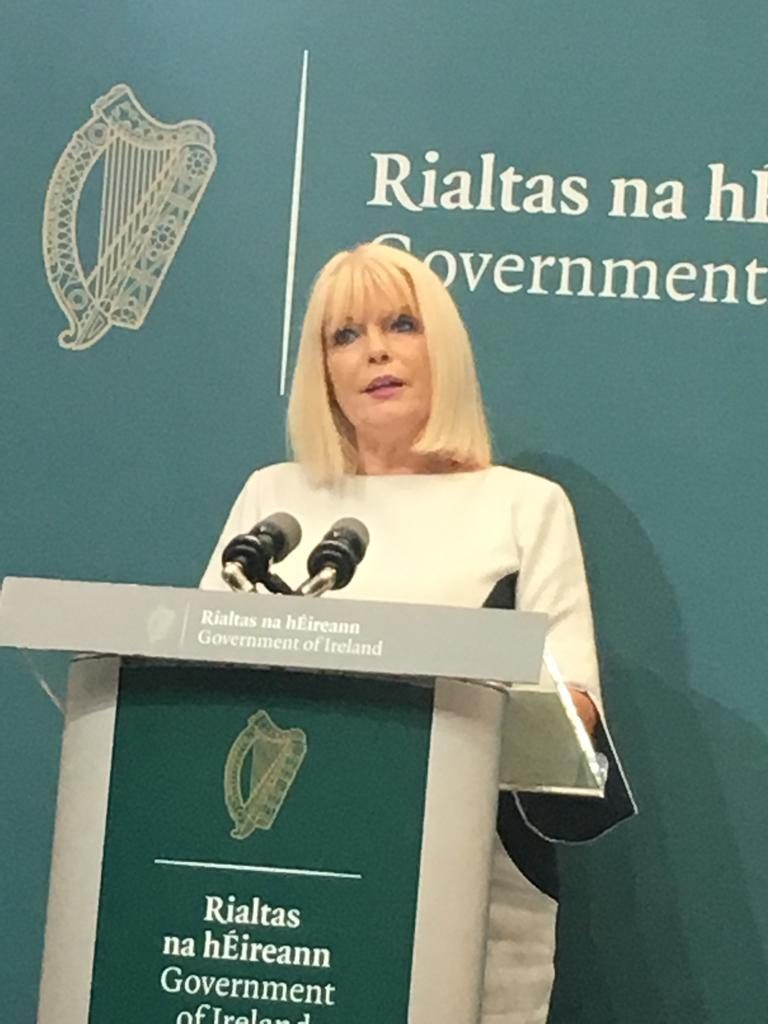 The Minister of State for Higher Education Mary Mitchell O'Connor T.D. today (9 October 2019) announced an increase of over €153 million for tertiary education. This will provide for a wide range of measures to provide greater choice and opportunity to students, meet future skills needs, support student well-being and promote excellence in research.
This funding will provide:
For the launch of the Human Capital Initiative with €60 million in 2020, providing an additional 3,000 student places.
€18 million to address demographic pressures, accommodating a further 2,700 places.
A multi-annual fund of €90 million to assist the development and progression of Technological Universities (TUs).
Funding of €3.3 million to promote excellence in research.
Funding of €2 million for student mental health and wellbeing initiatives in the higher education sector.
The Minister said: "I am delighted to announce an additional €153m package in tertiary education. Overall the higher education spend has increased by 25% over the past four years. At €1.88bn, 2020 will see the highest level to date of spend on higher education in a single year.
"This targeted investment will support our institutions to address digital skills needs, to focus on upskilling, reskilling and lifelong learning. The continued investment will ensure our readiness to respond to the regional and other impacts of Brexit, as well as addressing growing demographic pressures.
"2020 will also see the launch of a major multi-annual transformation fund of €90 million for technological universities. €3.3m will be provided to promote excellence in research and €2m to establish a new annual commitment to support student mental health and wellbeing."
Human Capital Initiative
This initiative focuses on key priorities identified by Government through Future Jobs Ireland and will form a key part of the strategic response to a changing world of work and the challenges the economy will face. With a strong focus on innovation and agility, the programmes being supported will enable us to ensure that our graduates and the education system as a whole, are in a position to respond positively to the challenges and opportunities ahead.
Minister Mitchell O'Connor said: "The technological disruption transforming our workplaces at an incredible pace and fundamentally changing how we work is unprecedented. AI and automation are displacing tasks once exclusively undertaken by people, and as a result, we will unfortunately see some jobs disappear entirely over the coming years, but the digital transformation will also unlock enormous pent-up potential within our businesses, bringing with it new growth and creating new jobs, many of which don't exist in 2019. The HCI will help our higher education sector face this challenge, and equip our students for the future by incentivising continued reform and innovation in third level courses. It will help build on best practice nationally and internationally, and support innovation in programme design and delivery."
Technological Universities Transformation Fund
This fund will assist TUs to deliver on national strategic priorities: broadening access to higher education, promoting quality research, and excellence in teaching and learning for our students. It will also support increased regional development and socio-economic progress with the long standing connections these institutions have in their regions with business, enterprise and local communities.
The Minister said: "Having piloted the TU legislation to a successful conclusion last year and witnessed the establishment of the State's first TU in Technological University Dublin at the start of 2019, I consider this to be another pivotal moment in the development both of the existing TU and a number of other consortia endeavouring to attain TU status."
Higher Education Research Excellence
The objective of the €3.3 million funding is to strengthen the international competitiveness and visibility of Ireland's research capability.
Excellence in research emerges on the basis of international competition and collaboration, and these are increasingly important, especially in addressing today's global challenges. Ireland's research system is well regarded internationally in relation to factors such as academic freedom, a culture of open intellectual engagement and support for innovation.
Minister Mitchell O'Connor stated that, "The benefits that our higher education institutions bring to our economy are significant. They play a vital role in attracting and educating our young talent, facilitating their mobility in Europe and beyond, and in delivering talent to society. We need to ensure that in a post-Brexit world our third level institutions continue to collaborate effectively, and the funding I am providing will enhance their capacity in this regard."
Student Mental Health & Wellbeing
Funding of €2 million is being provided for student mental health and wellbeing initiatives in the higher education sector.
Minister Mary Mitchell O'Connor said: "While visiting all the institutions the length and breadth of the country and meeting with student representatives I have heard the same story at every meeting. That Student Counselling Services (SCS) are doing a good job but are highly stretched and under-resourced.
These services are highly valued by students but access to these services can be a challenge. The objective of the initiative is to enhance the capacity of SCS, to reduce waiting time for students and supplementing the the funding that institutions already invest in the provision of these services to students."