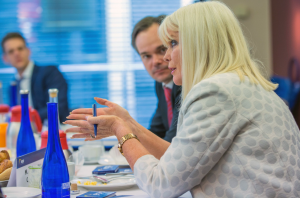 The Minister for Jobs, Enterprise & Innovation, Mary Mitchell O'Connor T.D. will today (Thursday 11th May) attend, the Foreign Affairs Council – Trade in Brussels. The Minister will discuss at Council preparations for the 11th World Trade Organisation Ministerial Conference, implementation of Free Trade Agreements, an update on preparations for the opening of new trade negotiations with Australia and New Zealand and an update on ongoing trade negotiations with Japan, Mexico and Mercosur.
Speaking at the Council today the Minister said that "promoting trade and diversifying into new markets is critical for Ireland .Today we will be working on progressing the EUs ambitious trade negotiations. These new trade agreements will create real opportunities for Irish business and will support our firms in realising their trade diversification strategies which are all the more important in light of brexit."
The Minister will also hold a bilateral meeting with Ms. Ann Linde, Swedish Minister for EU Affairs and Trade as part of her ongoing programme of engagements with EU counterparts on the trade, enterprise and Brexit agenda.
Minister Mitchell O'Connor will also continue her ongoing dialogue with Lord Price, UK Minister of State for Trade Policy, on the importance of the Ireland / UK trade and economic relationship. The Minister will once again point out the significance of the impact of the UK exit from the EU on Ireland and reiterate the unique nature of the Irish /UK relationship.