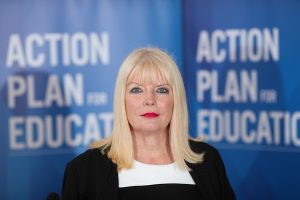 Mary Mitchell O'Connor T.D., Minister of State at the Department of Education and Skills, with special responsibility for Higher Education has this morning (20 October 2018) addressed the Institute of Guidance Counsellors (IGC) National Conference 2018 in Dublin City University. The theme of the conference was Guidance Counselling – Flourishing in a Diverse Society.
Speaking at the conference, the Minister said, 'Our schools and HEIs must provide quality education along with a holistic culture where the weaker and vulnerable students are supported. I agree with Minister McHugh when he stated this week that teachers are overwhelmed with new initiatives. So I am now saying 'Let's consolidate the good work being done in our schools and ensure the students are at the epicentre of our policy development not just regarding education as a series of soundbytes and press releases.'
The Minister also spoke of the restoration of career guidance posts 'As you are all to painfully aware the Government in 2012 was forced to find major savings in State spending, due to the economic crisis which was raging throughout the world at that time. One of the cuts made was the removal of ex quota guidance posts in second level schools and colleges of Further Education. The current Government in its Programme for Government has committed to restore as quickly as possible the resources removed at that time. To date we have restored to schools 500 of the 600 posts involved'
The Department has undertaken a number of initiatives to enhance career guidance provision in the education sector.
A policy statement on Wellbeing 2018-2023 was introduced last summer which gave a commitment to ensuring the guidance needs of children are met. In line with the Programme for Government commitment to enhancing guidance provision in schools, 500 guidance posts have been restored to schools. School managements will be required to allocate their guidance posts in agreeing their Whole School Guidance Plans. The guidance plan will outline the school's approach to guidance generally and how students can be supported and assisted in making choices and successful transitions in the personal and social, educational and career areas.
The Department recently commissioned an independent career guidance review which is being carried out by Indecon. The purpose of the review is to ensure that we are providing high quality, relevant career guidance information to students from post–primary level up to further and higher education. The review is looking at the quality of information available to students and adults in relation to career guidance, the sources of this information and how the system is organised to support students and adults in this area. The report of the review is expected in the coming weeks.
The Department is undertaking a review of guidance provision at third level under a Programme Recognition Framework. The aim will be to ensure the supply of well- qualified guidance counsellors for schools.
Minister said 'The review has addressed the needs of the entire populations with whom guidance counsellors work, in schools, Colleges of Further Education, Third Level Institutes, and with adults outside of formal educational settings. The purpose of the review is to make sure that we are providing high quality and relevant career information to meet the needs of individuals in all those situations. The National Centre for Guidance in Education is also undertaking an audit of guidance provision in schools, which should identify potential recommendations for improvement'
The Minister concluded saying 'Our future as a Nation looks good, and the opportunities for our young people and adult population are many and varied. I hope that we continue to work together collaboratively as we have done. We have a shared vision – to ensure that every citizen has an equal opportunity to take full advantage of our strengthening economy and its exciting opportunities'