40 new jobs for Waterford with The Packaging Hub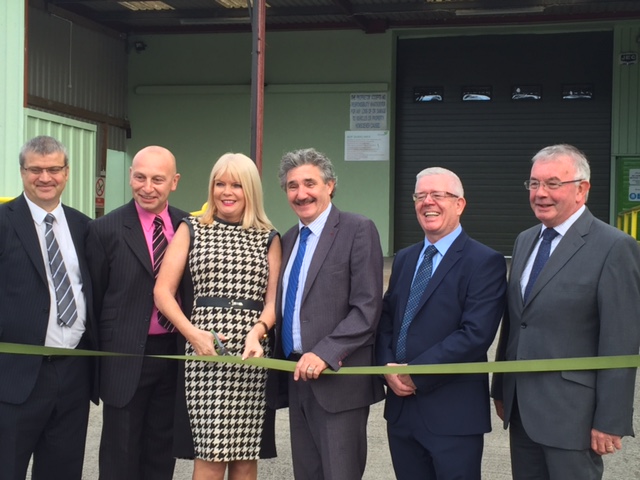 The Minister for Jobs, Enterprise and Innovation, Mary Mitchell O'Connor TD, and Minister for Training, Skills and Innovation, John Halligan TD, today (Friday, 23 September), officially opened The Packaging Hub's new packaging manufacturing facility and healthcare logistics centre in Waterford. As a result of the new facility, The Packaging Hub will create 40 jobs in Waterford by 2018. The expansion has been supported by the Department of Jobs, Enterprise and Innovation through Enterprise Ireland.
Speaking at the official opening, Minister Mary Mitchell O'Connor said: "As Minister for Jobs, my priority is to ensure an environment for jobs growth is developed across the country and in particular in the regions of Ireland. The Packaging Hub's expansion and growth, and the jobs associated with it, is a welcome boost for the local economy and community in Waterford City and County and it follows on from recent jobs announcements which shows that there is a momentum growing for jobs in regions around Ireland. The Packaging Hub is a great example of the type of company Enterprise Ireland is working with, and I wish them continued success for the future".
The Packaging Hub is a creative and innovative packaging, supply chain and logistics solution company. Offering end-to-end solutions which allow clients to concentrate on their core activity, The Packaging Hub delivers in-market packaging solutions which include a full suite of packaging design and manufacture, as well as supply chain and JIT logistics services, a combination which is unique to this growing company.
Harrods, Fortnum & Mason, Waterford Crystal, Lily O'Brien's and Rathborne Candles are among the growing number of global brands working with The Packaging Hub. Their client base also includes general food, drinks, premium spirits and giftware manufacturers.
The introduction of The Packaging Hub's new healthcare logistics centre in Waterford will facilitate substantial engagement with healthcare companies nationally.
Established in 2010 and incubated under South East BIC, The Packaging Hub has grown from strength to strength over the last six years. With operations across three continents, Directors George Banks, John Hudson and Malcolm Hoyle are committed to growing The Packaging Hub's manufacturing and logistics facility in Waterford.
Speaking on behalf of the executive team, George Banks said: "This is a very important stage in the development of the business and we appreciate the support of Enterprise Ireland in helping us to reach this level. I would also like to take this opportunity to thank our clients for putting their trust in us and the great team at The Packaging Hub for delivering on that trust time after time".
Speaking on behalf of Enterprise Ireland, Neil Kerrigan, Manager, Print & Packaging said: "A key role of Enterprise Ireland is to drive and support innovation in Irish companies. Innovation is central to The Packaging Hub's success in competing and winning global customers. Enterprise Ireland has worked closely with The Packaging Hub since its formation in 2010, and we look forward to continuing to support their growth ambitions as they expand their global footprint, sustaining and creating jobs in Waterford".