Top Irish exporters meet to plan their post Brexit strategies at International Markets Week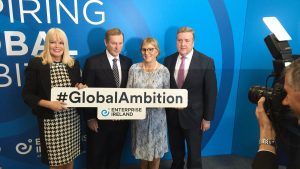 Almost nine out of ten Irish companies plan to extend into new international markets over the next 12 months according to a new survey by Enterprise Ireland, the state agency responsible for helping companies to grow their exports internationally.
More than 140 international Market Advisors from over 30 Enterprise Ireland overseas offices have returned home to assist over 400 client companies with developing new global export plans in the context of Brexit during the week.
The survey results were announced this morning at International Markets Week 2016 in Dublin's RDS where the Taoiseach, Enda Kenny TD officially launched Enterprise Ireland's Global Ambition campaign.
Minister for Jobs, Enterprise and Innovation, Mary Mitchell O'Connor TD said: "I have been greatly encouraged by Enterprise Ireland's immediate reaction to the UK referendum – contacting clients, setting up a helpline and publishing a comprehensive guide for Exporters to the UK. This week is all about exports, encouraging more Irish companies to export internationally and to scale globally.
By utilising the expertise of experienced Market Advisors, all the companies attending International Markets Week will get the best possible advice for optimising their export plans".
According to the results of the survey of 356 companies registered to attend International Markets Week:
The top 3 export target markets are USA/Canada, Northern Europe and the United Kingdom.
• These market regions are closely followed by Southern Europe/Middle East/Africa, Asia and Central Europe/Eastern Europe/CIS and Russia.
• Nearly one in five companies with global expansion plans indicated an interest in Latin America.
• Four out of five companies are active in the UK market.
• Eighty percent of those active in the UK said they plan to deepen their involvement in the UK market.
Speaking at the International Markets Week Breakfast Briefing, the Taoiseach said: "Enterprise Ireland has been proactive in assisting exporters. Staff from their overseas offices have travelled home from four corners of the world to meet with hundreds of Irish exporters who are making their plans for the next year and beyond. This is an important event, particularly in the context of the UK's decision to leave the EU which poses new challenges for Irish exporters. The new Global Ambition campaign launched today reinforces Enterprise Ireland's work to encourage more exporters to scale up their export plans and advise those considering international expansion".
Julie Sinnamon, CEO, Enterprise Ireland said: "Today's survey results reflect that Irish companies have ambitious plans for their future exports and they're not afraid to travel far and wide. But we need to continue to drive the ambition of Irish exporters, especially in the aftermath of Brexit and now that we have a clear indication on the timing of Article 50.
"That's why today we are launching our new Global Ambition initiative to encourage, educate and enable exporters to develop their export plans and expand on a significant international scale. The campaign features the stories of ambitious, successful Irish exporters and is part of Enterprise Ireland's response to the UK Referendum result.
"Through our expertise and overseas network, Enterprise Ireland is identifying options in all international markets. Our intention is to work with companies to drive their innovation and competitiveness and create companies of scale at an international level".
To open International Markets Week to clients, a panel of experts participated in a Breakfast Briefing alongside Government Ministers to discuss what it takes to secure and optimise the global future of Irish companies in a time of change, under the theme of "Succeeding Globally – Brexit Challenges and Opportunities".