Tenable Selects Dublin as Home for its First International Headquarters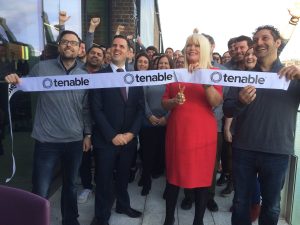 Tenable Network Security®, Inc., a global leader in cybersecurity, today announced, in partnership with Ireland's Department of Jobs, Enterprise and Innovation through IDA Ireland, the opening of its new international headquarters in the heart of the Dublin Docklands, and its plans to create 100 jobs over the next two years.
Amit Yoran, chairman and CEO of Tenable, with the Minister for Jobs, Enterprise and Innovation Mary Mitchell O'Connor TD, marked the grand opening with a ribbon cutting ceremony to celebrate the company's commitment and investment in the local Dublin economy.
Speaking at today's announcement, Minister Mitchell O'Connor said, "I warmly welcome the establishment of your international headquarters here in Dublin and the announcement that this will create an additional 100 jobs over the next two years. The ICT Sector has made extraordinary advances in recent years, but these advances bring their own security challenges. That's where companies like Tenable come in. These jobs are an additional boost to the 6,000 already working in cybersecurity here. I wish you and your team the very best and I look forward to watching your company thrive and grow in the coming years."
"Tenable is a fast-paced, innovative security company, so it's only natural we chose Dublin, a city known around the world for its tech talent, as the home of our first international headquarters," said Amit Yoran, chairman and CEO, Tenable. "I'm grateful to the Minister and IDA for this warm welcome, and I'm excited for Tenable to be part of this great community."
Welcoming the announcement, Martin Shanahan, CEO, IDA Ireland said, "Tenable's decision to establish its new international headquarters in Dublin significantly bolsters Ireland's reputation as a cybersecurity hub within Europe. Ireland, as a committed member of the European Union, provides companies with access to a highly skilled and mobile IT talent pool. IDA looks forward to supporting the company as it grows and develops its international footprint from Ireland."
The grand opening comes on the heels of record results for the company, which added a number of new enterprise customers and increased its EMEA headcount by 76 percent in 2016. With its new international headquarters, Tenable now has offices in 20 countries, allowing the company to better respond to surging global demand for its innovative products.
To learn about opportunities at Tenable, visit the company's career site at tenable.com/careers, and follow career updates on LinkedIn, Twitter and Facebook.