Qualifications and Quality Assurance (Education and Training) (Amendment) Bill 2018 Passes both Houses of the Oireachtas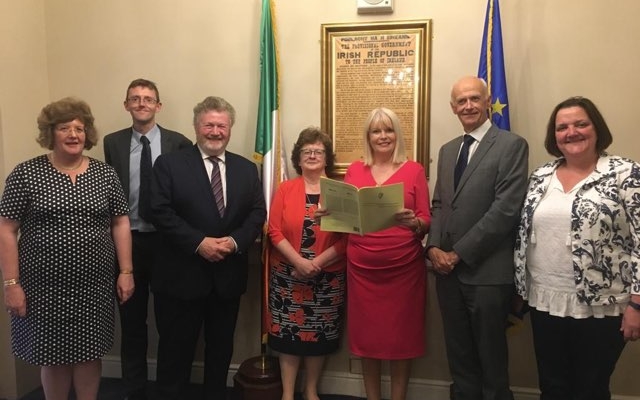 The Qualifications and Quality Assurance (Education and Training) (Amendment) Bill 2018 was today (Thursday, 11th of July) passed by both Houses of the Oireachtas and will now be presented to the President for his signature.
Minister of State for Higher Education Mary Mitchell O'Connor T.D. said: "I am delighted to be able to say today that the Government has put in place protections for the staff and students of English language schools, with the passing of this Bill.
"We have over 120,000 international language students from all over the world learning English in Ireland every year. They add greatly to our society and our economy and we value their presence here. The measures in this Bill are necessary to give these students the welcome and protection that they deserve. I want to ensure that international language students coming here have a quality learning experience that will encourage them to act as ambassadors for what Ireland has to offer when they return to their home countries.
"To make it easier for prospective students to find a quality educational experience, the Bill will deliver an International Education Mark, which only providers that meet QQI's robust quality assurance procedures will be allowed to use."
The Bill also contains the following measures:
• enables QQI to examine the compliance of providers, including those in the English language education sector, with national employment law. Where cases of non-compliance are identified, QQI will be empowered to withdraw authorisation from a provider to use the Mark.
• establishes a new national Learner Protection Fund. This fund will strengthen the existing system of learner protection and benefit students by ensuring that they are allowed to finish their programmes of education and training in the event that their programme ceases prematurely.
• a new mechanism enabling higher education institutions, such as RCSI, to apply to the Minister for Education and Skills for authorisation to be called a university.
"The title of university is highly prized and its integrity must be protected. The Bill provides a means for higher education institutions that do not receive extensive Exchequer funding to seek authorisation to describe themselves as universities.
"I am happy that the Royal College of Surgeons in Ireland will now have the opportunity to apply for designation as a university."
Other key provisions of the Bill will enable QQI to address the issue of academic cheating, to examine the corporate governance of providers, and to establish the institutes of technology as designated awarding bodies, allowing institutes of technology more autonomy over the range of programmes they deliver up to and including master's degrees.
In parallel to the passage of the Bill through the Oireachtas, the mediator to the English language education sector appointed by the Minister, Patrick King, engaged with teachers and school owners and their representatives. Arising from his findings and his consultations with key stakeholders the mediator recommended the establishment of a Joint Labour Committee to the Minister to set minimum employment standards for the ELT sector.
"I would like to thank Patrick King, the mediator I appointed to work with employer and employee representative bodies to seek to secure agreement on a set of appropriate employment standards for the English language education sector.
"I have accepted his recommendations. I have now written to Minister Pat Breen T.D., who is responsible for Trade, Employment, Business, EU Digital Single Market and Data Protection, requesting the establishment of a Joint Labour Committee to address all aspects of the working conditions and pay of employees in English language schools with a view to the issuing of an Employment Regulation Order for the sector. I will be publishing his report today."
The Bill is available on the Oireachtas website at the following link – https://www.oireachtas.ie/en/bills/bill/2018/95/
Mr. Patrick King's report is available at the following link – https://www.education.ie/en/The-Education-System/Higher-Education/commercial-english-language-education-sector-report.pdf