National Student Accommodation Strategy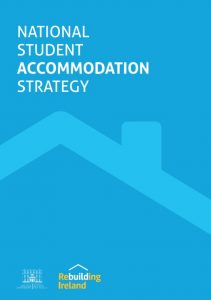 The Minister of State for Higher Education Mary Mitchell O'Connor T.D. and the Minister of State with special responsibility for Housing and Urban Development Damien English T.D. today released the end Q1 2019 progress report on the National Student Accommodation Strategy.
The National Student Accommodation Strategy (NSAS) complements the initiatives being taken by the Minister for Housing to increase housing supply under Rebuilding Ireland.
Eight key targets and 27 actions are outlined which are designed to support the delivery of an increased level of supply of Purpose Built Student Accommodation (PBSA) and an increase in take-up of digs accommodation. The target as set out in the NSAS is the provision of 7,000 bed spaces by end 2019 and a total of 21,000 additional PBSA beds by 2024.
As of the end Q1 2019:
• 6,362 PBSA bed spaces had been completed since the launch of Rebuilding Ireland
• 6,007 further bed spaces were under construction
• 6,005 additional bed spaces had planning permission granted
• 2,880 were at the planning permission application stage
These projects combine to a total of 21,254 PBSA bed spaces, demonstrating strong growth in the sector and enhancing the mix of accommodation available to students during a time of accommodation shortage in the general rental sector.
Minister Mitchell O'Connor said: "I welcome the continued progress in delivery of student accommodation nationally. Increasing the availability of accommodation remains the most effective way to provide real choice to students and will act to moderate prices as the supply and demand near equilibrium in the future.
"In the interim, my officials are working closely with officials from the Department of Housing, Planning and Local Government to ensure that students, living in student-specific accommodation, will be able to avail of the same rent predictability measures as other tenants, whether they are in that accommodation on foot of a lease or a license."
Minister English said "I welcome proposed legislative measures in the Residential Tenancies (Amendment) Bill, which is progressing through the Oireachtas, that will extend rent predictability measures to students in purpose built student accommodation.
"The proposed measures will allow students a level of protection from rent increases disproportionate to the wider rental market. The Q1, 2019 figures confirm continued progress in the delivery of purpose built student accommodation across the country and a strong pipeline of future developments at planning and construction stages."