Ministers McHugh and Mitchell O'Connor announce Royal College of Surgeons in Ireland (RCSI) granted 'university' title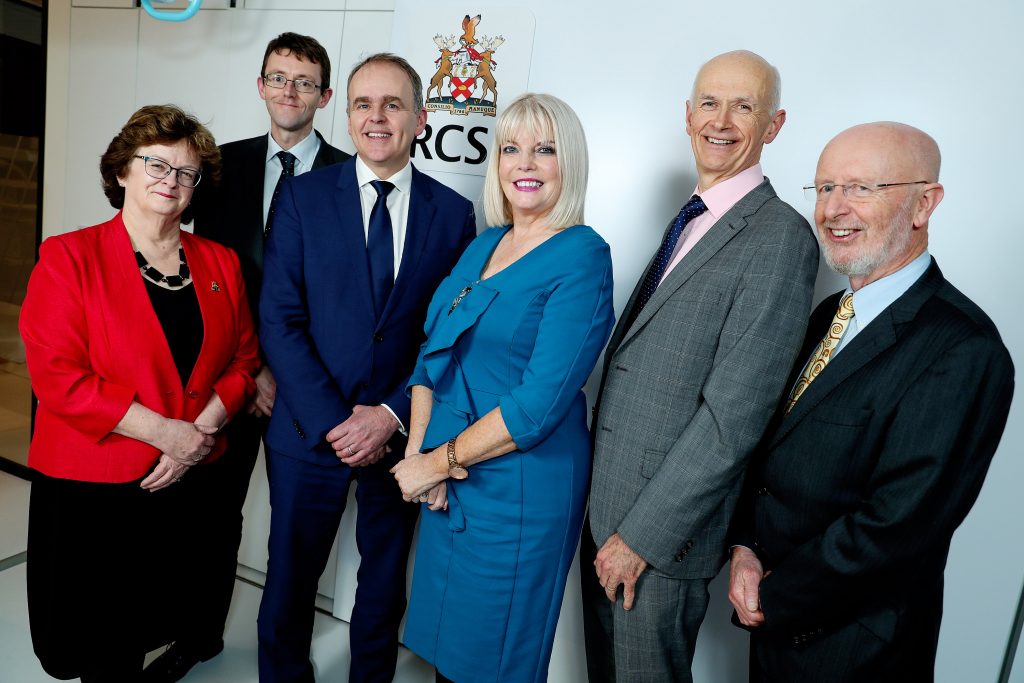 Minister for Education and Skills Joe McHugh T.D. and Minister of State with responsibility for Higher Education Mary Mitchell O'Connor T.D. today (10 December 2019) announced that the Royal College of Surgeons Ireland (RCSI) has been authorised to use the title of university in Ireland.
The renowned medical institution, founded by Royal Charter in 1784, has had permission to use the title overseas since 2015.
The order for RCSI to describe itself as a university within Ireland was approved by resolution in both Houses of the Oireachtas today.
It is the first time such an authorisation has been secured.
RCSI now has full rights to use the title to style, market and describe itself as a university both in Ireland and around the world.
Minister McHugh said: "I am pleased to announce that my decision to grant use of the description of university in the State to RCSI has today been approved by the Oireachtas. The application was given long and detailed consideration.
"RCSI has played a hugely important role in Irish surgical and medical education and training for 235 years. The institution is at the forefront of progressive learning, incorporating state-of-the-art technology and teaching, with students from 40 countries gaining some of the best knowledge and experience in medicine.
"The authorisation to university status is right considering RCSI was the only higher education institution with designated powers which could award qualifications including doctoral degrees but could not describe itself as a university."
Minister Mitchell O'Connor said "The title of university is highly prized in our higher education system and its integrity must be protected.
"I was delighted to pilot the Qualifications and Quality Assurance (Education and Training) Amendment Act 2019 through the Oireachtas this year, paving the way for this resolution to be passed.
"This authorisation is not lightly bestowed nor easily obtained. RCSI meets all of the challenging conditions laid out in the legislation. It demonstrates excellence in its continued research record; the breadth and intensity of its programmes; coherent and effective governance; student access and composition and staff qualifications requirements. RCSI has forged intensive and collaborative links with a wide range of partner institutions nationally and internationally, with stakeholders and the local community.
"Students receive their medical education and training in RCSI and its associated hospitals in a wide range of disciplines including surgery, medicine, nursing, radiology, pharmacy, anaesthesiology, physiotherapy and dentistry."
"Its record is recognised worldwide and has led to its success as a destination of choice for our own student as well as many international students seeking a world-class medical education.
Professor Cathal Kelly, chief executive of RCSI, said: "I welcome the granting of university authorisation to RCSI by Minister McHugh and Minister Mitchell O'Connor and I thank them, and their officials. Founded in 1784 as the national training body for surgery in Ireland, today RCSI is an innovative, world-leading international health sciences education and research institution. This announcement marks a significant milestone in our journey, recognising our impact on higher education in Ireland and internationally. The title university will significantly contribute to our continuing efforts to attract excellent students, researchers and staff, and build our partnerships and reputation internationally."
It is the first time an application has been granted for a university authorisation order by the Minister for Education and Skills under section 54(3) of the Universities Act 1997.
This new legislative process, applying to those education providers that do not drive their primary income from Exchequer funding, was provided for by way of amendment to the 1997 Act provided under the Qualifications and Quality Assurance (Education and Training) (Amendment) Act 2019, enacted earlier this year.