Ministers Madigan & Mitchell O'Connor announce co-funding of re-development of Royal Irish Academy of Music on Westland Row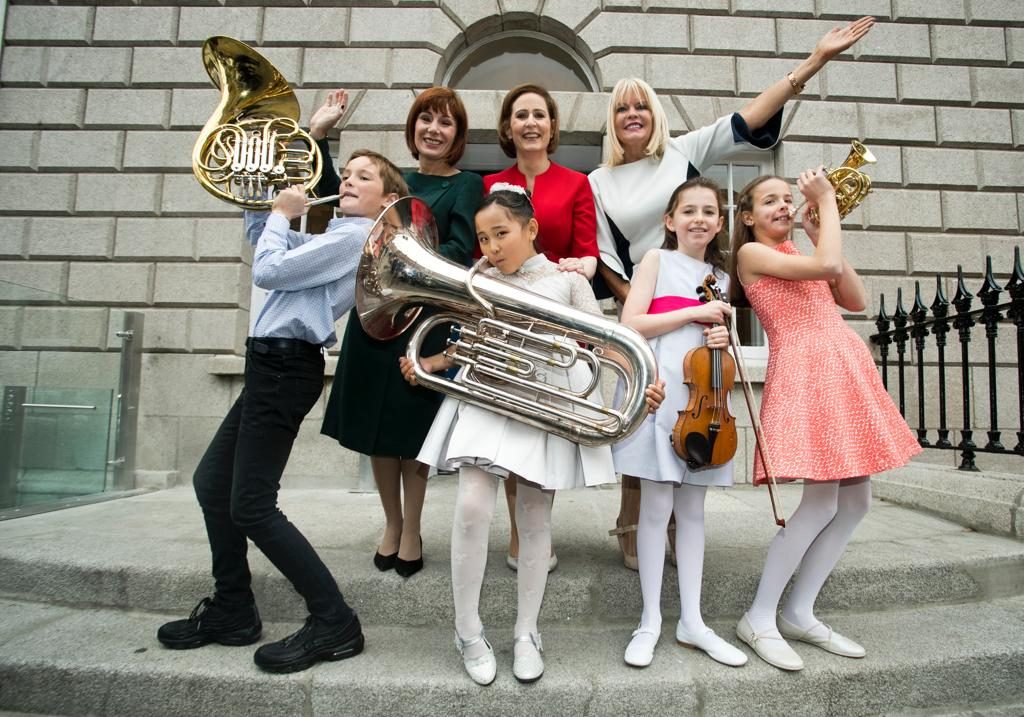 The Minister of State for Higher Education, Mary Mitchell O'Connor T.D., together with the Minister for Culture, Heritage and the Gaeltacht, Josepha Madigan T.D., today (25th October 2018) announced joint funding of €9 million for the Royal Irish Academy of Music (RIAM) to assist in the re-development of its historic Westland Row premises.
The funding is being provided under the National Development Plan 2018-2027 which commits to exchequer investments of €2.2 billion in Ireland's higher education infrastructure and investments of €1.2 billion in our cultural heritage over the coming decade.
The Department of Education and Skills is allocating €6m to this project with the Department of Culture, Heritage and the Gaeltacht providing a further €3m, to give a total exchequer contribution of €9m.
This co-funding approach recognises the significance of RIAM as both an education and cultural institution, based in the heart of Dublin, but with reach across the island of Ireland. The total project cost is expected to be in the region of €20m, the balance of which is being raised by RIAM from philanthropic donations.
To date important donations have been received from a wide range of sources including Mrs. Carmel Naughton, Lochlann and Brenda Quinn, Stephen Vernon as well as further support from Riverdance composer Bill Whelan and institutions such as Northern Trust Bank, KPMG, the Lauritzson Foundation, Tim and Joan Delaney, the trustees of Arthur Carr Donnelly, Joan Butler and Leona Rennicks.
The project will redevelop and transform RIAM's existing facilities in Westland Row to provide modern teaching rooms; research supervisor rooms; a lecture hall; a recital hall and ancillary student and staff facilities such as common rooms, breakout space and office space.
The enhanced facilities will enable the Academy to expand its capacity at undergraduate and postgraduate level, including both national and international students. This major capital investment represents a new and defining phase in the Academy's development that will strengthen its reputation as a key player on the international stage.
Minister Mitchell O'Connor said "The contribution of RIAM for 170 years to the education and cultural life of this country is widely valued and appreciated. Through its network of 1,700 local music education centres, it brings music into the lives of some 40,000 young people across the country each year. From its historic premises at Westland Row, it educates students to the highest standards of music performance, including at undergraduate, post-graduate and doctoral level. The next phase of the Academy's development requires investment in its infrastructure to ensure that it can expand and keep pace with the standards expected of an internationally-recognised music conservatory.
I am particularly pleased that this project is being co-funded with the Department of Culture, Heritage and the Gaeltacht and that some 50% of the overall cost will be raised from private donors. Philanthropy has played, and I hope will continue to play, an important part in the development of our higher education infrastructure."
Minister Madigan said "My Department is delighted to be associated with this project which aligns very well with the aims of Creative Ireland. In particular the project will contribute to one of the key objective of this programme, that by 2022 every child in Ireland will have access to tuition and participation in art, music, drama and coding. With RIAM's reach across thirty two counties through 1,700 local music education centres, this project will also contribute towards another object of Creative Ireland which is to Enable Creativity in Every Community. In addition Creative Ireland, under the National Creativity fund is allocating €70,000 to 'Le Chéile to develop music ensembles for young disabled musicians in every province in Ireland culminating in the founding of the Open Youth Orchestra of Ireland, the EU's first national youth orchestra for disabled musicians"