Minister Mitchell O'Connor launches an online resource to inform Higher Level Institutions' Student Retention Strategies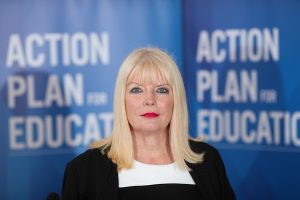 Mary Mitchell O'Connor, T.D., Minister of State for Higher Education, today 2nd of November, 2017, launched an online resource to assist higher level institutions to create effective student retention strategies and to enhance student experiences.
The Online Resource for Learning Analytics (ORLA) was developed by the National Forum for the Enhancement of Teaching and Learning to support institutions to use existing data to benefit their students' learning. The Minister stated, " This resource will help institutions, teachers and researchers to better understand students' learning behaviour. The insights gained from analysing data that institutions already have can enable them to both enhance the student experience and reach out to students experiencing difficulties".
On average, approx. 15% of third-level students do not progress to the second year of their course. Some of these students could be helped to stay in education if institutions applied Learning Analytics (LA) to the data in their in-house student systems to develop new approaches and strategies to support students to continue with their studies. ORLA is a tool box that provides a detailed introduction to the concepts and applications of Learning Analytics. The resources can be used to develop institutional strategies and help teachers make better use of the data available to them. They are supported by a suite of case studies, written and submitted by educators who have successfully incorporated LA into their teaching or module management.
Welcoming the Ministers announcement of ORLA, Sarah Moore, chair of the National Forum said, "Employing Learning Analytics intelligently can provide predictive models that can help shape our teaching approaches, allowing us to look at what is working for our students and what is not. The tools contained in ORLA can inform earlier and more focussed student interventions, with a view to optimising student success."
The comprehensive suite of information available through ORLA was developed by the National Forum in conjunction with over 60 representatives from across the higher education sector. The National Forum will continue to work over the coming years with institutions to develop their use of Learning Analytics, for example targeting support for priority groups identified in the HEA National Access Plan. ORLA can be accessed through www.teachingandlearning.ie/orla