Minister Mitchell O'Connor congratulates first graduates of the Insurance Practitioner Apprenticeship at Capstone Project Awards Ceremony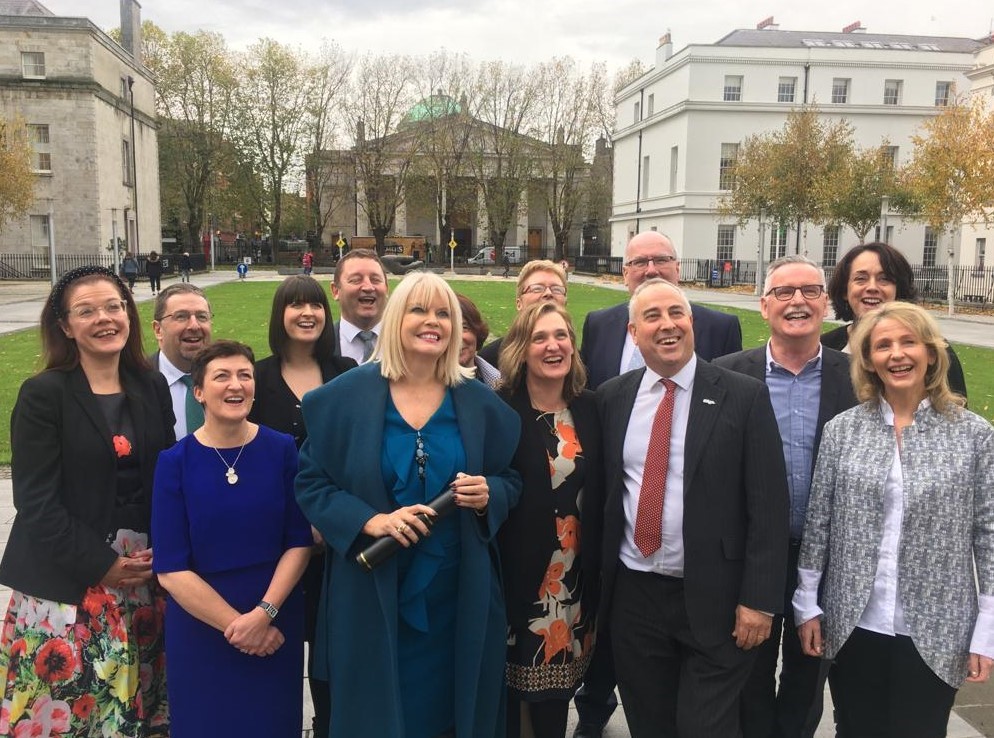 The Minister of State for Higher Education Mary Mitchell O'Connor T.D. today congratulated the first graduating cohort of apprentices from the BA (Hons) in Insurance Practice who traveled to the Department of Education to receive awards for their capstone projects submitted as part of their final year work. The 33 graduates at the ceremony graduated from IT Sligo on Friday 1 November.
Minister Mitchell O'Connor said: "These six awards being handed out today recognise your achievements and highlight the high standard of work that you submitted as part of your final year projects. The topics covered such as the effect of climate change on the insurance industry and the effect of terrorism in the motor fleet industry show how apprentices are thinking on a global scale and applying what they have learned in their work. Ultimately apprenticeships prepare people for a career, not just a job, and change people's lives".
The Minister also thanked the Insurance Institute and Sligo IT for their work on delivering such an innovative programme saying that: "The collaboration between industry and education and training providers shown here today is an object lesson in how partnership between education and industry is central to delivering real skills to the workplace and thereby maintaining Ireland's competitiveness".
The Minister noted the strong level of female participation in this apprenticeship saying that: "Traditionally the numbers of women using apprenticeship to develop their careers have been extremely small, but there has been a dedicated drive from many partners to change this dynamic over the past number of years. It is encouraging to see that, from an extremely low figure of 60 women apprentices in Ireland in 2016, the number of female apprentices has now risen to 622. Of course we still have a long way to go but I am committed to sustaining our progress in this area."
The BA (Hons) in Insurance Practice, launched in 2016, was the first Level 8 apprenticeship programme in Ireland and the first to produce graduates. The Insurance Institute and IT Sligo have developed and launched this degree programme with the support of an Industry Consortium and Steering Group. The programme was developed following a successful proposal made to the Apprenticeship Council as part of the Government's drive to expand apprenticeship into new areas of the economy. With the Life Insurance Association joining in 2017, this degree qualification allows new entrants to the financial services sector to earn while they learn from their place of business with award winning delivery of online content.
This apprenticeship supports the government's IFS 2025 ensuring that Ireland continues to be a centre of excellence, providing skilled people to meet the demands of a growing International Financial Services sector.