Minister for Jobs, Enterprise and Innovation, Mary Mitchell O'Connor opens SE2 Waterford Office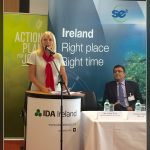 The Minister announced 65 new jobs in se2, the leading third-party administrator for the North American life and pensions industry, in Waterford, IDA's Technology Park. The company has an existing fulltime team of 70 and hope to fill out its 135 seat office space over the next 3-4 years. There are currently opportunities to join the existing team for both experienced professionals and for those wishing to start a career working on se2's award winning technology platforms.
The project is supported by the Department of Jobs, Enterprise & Innovation through IDA Ireland.
Speaking at the event, the Minister for Jobs, Enterprise and Innovation, Mary Mitchell O' Connor said: "It is great to see se2 growing its company and expanding its workforce in Waterford. I am delighted that this project is supported by my Department through IDA Ireland. The South-East is now the fastest growing region outside of Dublin. As Minister, my priority is to ensure an environment for job growth is developed right across the country and in particular in the regions of Ireland. Having such a highly regarded company as se2 in Waterford is a great boost to the region and will help us attract other high growth tech companies here. I want to wish all at se2 continued success."
Photos from the opening below: