Fenergo to Deliver 200 New Jobs to Support Global Growth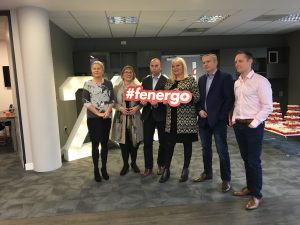 Fenergo, the leading provider of Client Lifecycle Management software solutions for investment, corporate and private banks, has today announced the creation of 200 new jobs due to rapid global expansion, bringing its total global employee base to 500.
The new positions, supported by the Department of Jobs through Enterprise Ireland, are across many areas of the business – Product Management, Software Engineering, Implementation, Consulting and Marketing. Recruitment will begin immediately with all positions to be filled over the next 12 to 18 months.
Speaking at the jobs announcement event held in its global headquarters in Dublin's Docklands, Marc Murphy, CEO, Fenergo, said, "I am delighted to announce the creation of 200 new high value jobs for the Irish economy. The demand for Fenergo's Client Lifecycle Management technology solutions is global and immediate, driven by regulatory change and banks' desires to be able to comply fully with new and enhanced regulations, whilst achieving operational cost efficiencies and delivering superior client experiences. We anticipate continued significant growth across all of the regions we serve – Americas, Europe, UK, APAC and the Middle East – over the next 36 months.
"To help us meet this global demand, we are looking for the smartest, most dedicated and talented people to join the team to help us continue to improve this world-class business that we have built. By joining the Fenergo team, this new talent will be part of a journey to build a global Irish technology company that is at the forefront of developments in robotics and artificial intelligence for financial technology."
With ambitions to IPO the company by 2020, Fenergo is well on its way to achieve this given its considerable growth over the last five years, averaging over 100% year-on-year. During this time, Fenergo has signed significant new named deals with world-leading financial institutions, including HSBC, UBS, BNY Mellon, Scotiabank, Bank of Montreal, BBVA, Westpac, RBS, RBC, SunTrust and Nikko Americas. The company is also expecting another stellar sales performance this year.
Minister for Jobs, Enterprise and Innovation, Mary Mitchell O'Connor TD added:
"I am delighted to join the Fenergo team today in its new global headquarters in Dublin to celebrate the announcement of 200 new high tech and professional jobs. Over the last five years, Fenergo has become an indigenous Irish success story, achieving phenomenal global sales success and putting Irish Fintech and RegTech firmly on the global map. With the support of my Department through Enterprise Ireland, the new jobs created marks a new wave of momentum and growth in the company's future. The Government through Enterprise Ireland looks forward to continued engagement with Fenergo to support their growth and business development."
Today's announcement follows the rapid growth in employee numbers over the last few years. In January 2013, Fenergo employed 36 people. This will increase to 500 with the new job creation. The company has also opened six new offices across the world including New York, Boston, Sydney, Singapore, Japan and Abu Dhabi and relocated its Dublin, London and Boston headquarters to cater for its growing number of personnel. Most recently, the company took up residence in a 21,000 sq feet building in Dublin's Point Village.
Minister of State for Financial Services, Eoghan Murphy TD, who was also in attendance at Dublin's headquarters, said:
"An overarching objective of the Government's IFS 2020 Strategy is to strengthen our indigenous Fintech sector as a source of high-value job creation. Approximately one-quarter of 2017 actions target this area. Fenergo is a great example of Enterprise Ireland's policy of strategic investment, targeting areas such as RegTech. I have had the opportunity, across Asia and more recently in North America, to support Fenergo's ambitious expansion plans. Today's announcement is proof positive that an Irish company can compete and succeed on the global stage."
Fenergo's success and growth comes on the back of significant inward investment into the company. In August 2015, Insight Venture Partners and Aquiline Capital Partners together invested €85m in Fenergo. Fenergo is using this investment to expand its global footprint by opening new offices and increasing employee numbers across all regions, invest in its product and technology R&D and create a global partner enablement programme.
The company has also invested in creating a community of banks, with which it collaborates to align its regulatory and product roadmaps, and develop solutions that can transform compliance, data and client management operations into real, value-added processes.
Julie Sinnamon, CEO of Enterprise Ireland, said:
"We have been working with Marc and the team in Fenergo since 2009. Fenergo is fast becoming the industry standard for Client Lifecycle Management solutions for banks across the world and is a great example of an Irish Fintech company with global ambition. Our ambition is to help more Irish companies like Fenergo to compete and win sustained business in overseas markets. Enterprise Ireland looks forward to working with Fenergo to continue to support their growth ambitions as they expand their reach even further in global markets, strengthening their customer base internationally and continuing to create jobs here in Ireland."