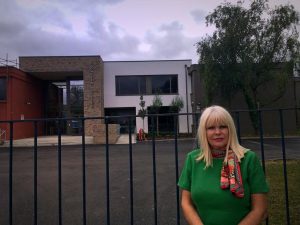 I am a neighbour to Clonkeen College. My home is a few hundred metres away. My neighbours' children are pupils in the school and many former pupils of mine have been educated there.
Clonkeen College is an outstanding school with an excellent reputation. Offering a comprehensive and holistic education to all its students, including a wide range of sports, including football.
I also want to draw attention to the Special Needs Unit in Clonkeen College. This unit serves children accessing a Special Education which, I understand, needs to be delivered in a caring, special environment.
I supported this Special Needs Unit in my time as Principal of the Harold School, and indeed have visited it. And I have seen, first-hand, the great work that is carried out within this Special Needs Unit.
I want to say that I know first-hand how great this school has been managed and also its competent Board of Management.
The Department, and indeed the Taxpayer, as is well known, has invested over €10 million in its development and enhancement in recent years.
I want to put on the record of this House that I have worked tirelessly since last summer to facilitate a resolution to this issue.
I arranged a meeting between the Minister for Education and Skills, and Principal, and members of staff, and the Board, and the Department, to which I invited Deputy Boyd Barrett and other Elected Representatives.
I have met subsequently with the school principal, Board of Management, individual parents, and pupils, and stakeholders, on numerous occasions.
I have communicated with stakeholders and also with the School Principal, often on a bi-weekly basis, and indeed in some cases on a daily basis.
I understand the statutory role of the Minister for Education now in this process.
However, speaking for myself, as an Elected Member for Dun Laoghaire, and as a former school Principal in the area that has spent 31 years of my career educating children, I still believe that talks between both sides is the best route forward in this process.
As a local TD, I am available to do whatever I can to bring both sides back to the table. Thank you.