Article from Business World on my visit to announce 150 new jobs at Sigmar Recruitment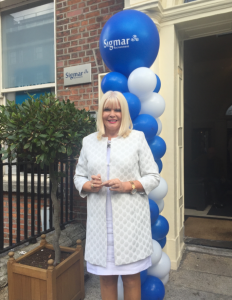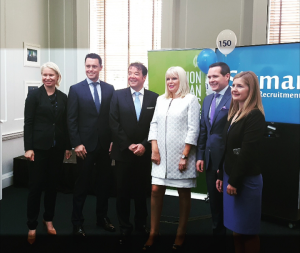 Sigmar Recruitment yesterday announced the creation of 150 new jobs to service its new Centre of Excellence.
The announcement was made by the Minister for Jobs, Enterprise and Innovation, Mary Mitchell O'Connor TD.
These new positions will more than double the workforce by the end of 2018. Sigmar Recruitment is on track to deliver 50 of these new jobs by the end of this year, with another 50 by the end of 2017 and a further 50 by the end of 2018.
The jobs are in recruitment, sales and digital marketing at both experienced and graduate levels with a significant number of positions available in locations outside of the capital to include Cork, Galway and Kerry.
The new positions are announced as part of the company's expansion plan to deliver a wider portfolio of services globally and will bolster the position of the company as Ireland's leading independent recruiter.
The establishment of the Centre of Excellence is largely due to an uplift in demand for talent by US companies who are expanding internationally from Ireland.
Successful candidates will be eligible for the company's own Recruitment MBA, which is run in conjunction with Trinity College Dublin and Notre Dame, the first transatlantic executive programme of its type in the country.
According to Sigmar CEO Adie Mc Gennis the net effect of this announcement is far greater than the 150 jobs, he commented, "As recruiters by their very nature have a huge impact on job creation, the end effect of a creation of 150 jobs will have an enormous effect in terms of the actual number of jobs being created in Ireland over the next number of years. Everyone at Sigmar is proud and excited to share our expansion plans. We have experienced very strong growth and this confirms our confidence in the recruitment sector, the Irish economy and most importantly in all of our people to continue Sigmar's success."
Minister Mitchell O'Connor added, "These new jobs will contribute greatly to the prosperity of communities across the country. Sigmar is a great example of the type of company Enterprise Ireland is working with. I warmly congratulate Adie and his team and wish them continued success for the future."
Source: www.businessworld.ie