2019 Report from Minister of State for Higher Education, Mary Mitchell O' Connor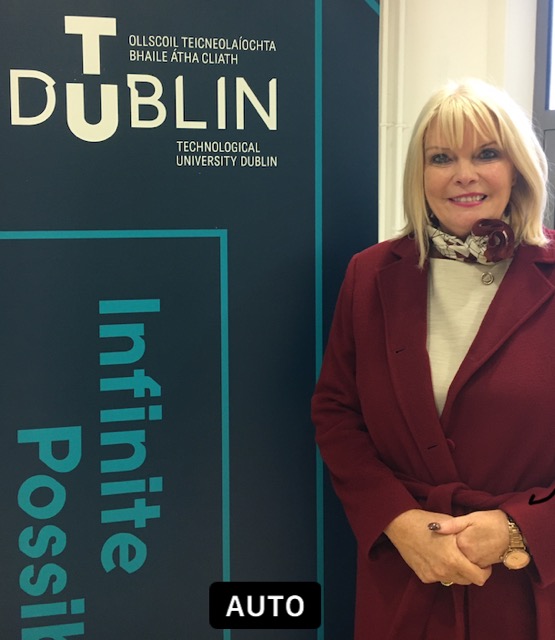 We have had a very productive year in the Dept. of Education and I worked hard with my senior officials and education stakeholders, including the most important stakeholders of all: students, in 2019. The 'student' is at the epi centre of my agenda.
We now have the highest budget for Higher Education ever in the state.
Universities
· I brought legislation through the Oireachtas that led to Technology University Dublin, the largest university in Ireland. It opened on 1st January 2019✅✅
· I am working hard to facilitate designation of 4 other Technology Universities (TUs); many of these are well progressed ✅
· I tripled funding to € 90 million… three year TU Transformation fund for TUs ✅✅
· I put through complex legislation in December 2019 enabling Royal College of Surgeons of Ireland to become a university in the State – RCSI University of Medicine and Health Sciences. ✅✅
Legislation
· I brought through the Oireachtas the Qualifications and Quality Assurance (Education and Training) (Amendment) Bill 2018 (Act 2019) to improve and ensure the quality of Higher Education ✅✅
· I opened a review of legislative reform of the Higher Education Authority Act after 48 years. ✅✅
English Language Teaching Sector
· I believe my work will improve the quality of English Language Schools. They must now receive International Education Mark and their teachers must be paid properly in line with a Registered Employment Agreement in accordance with the Joint Labour Court. I was told it couldn't be done: now delivered. ✅✅
Gender Equality
· I have ensured that 45 additional female professorial posts for females were created under the Strategic Academic Leadership Initiative (SALI). First time ever done in Irish Higher Education Institutions! ✅✅
Student Accommodations
· Student Accommodation Taskforce targeted 7,000 additional bed spaces by the end 2019. We have 8,000 new bed spaces and an additional 5,000 under construction. ✅✅
· I worked on Rent Pressure Zone (RPZ) housing legislation to ensure certainty to students when renting from landlords. ✅✅
· I have supported and provided funding for homes.usi.ie the USI website, which matches up homeowners with spare rooms and students seeking accommodation. ✅✅
Student Welfare
· My Action Plan for Safer Campuses will see safer Campuses for students with regard to lessening sexual harassment and a plan to reduce students taking drugs.✅✅
· I launched Framework for Consent in Higher Education institutions in April 2019: now being implemented in our Universities and ITs ✅✅
· I delivered additional funding of €2m to assist the mental health and wellbeing of students. This is in addition to existing € 7milliion spent in the area of 'Welfare and Guidance'. ✅✅
· In September 2019, I established a Rapid Response Group on Drug and Substance Abuse in Higher Education tasked with developing action plan includes senior academics, Gardaí, students, parents and first responders within institutions. This is now done✅✅
Access to Higher Education
· I implemented and funded National Access Plan for students that don't traditionally go on to Higher Education.✅✅
· This year I continued the Pilot Student Support Scheme for those in the Direct Provision system.✅✅
· I launched a €57 million Higher Education Access Fund to support students from underrepresented groups.✅✅
· In November 2019, I launched a revised Action Plan to promote Traveller participation in Higher Education.✅✅
Higher Education Funding
· I obtained substantial additional resources for higher education in Budget 2018, Budget 2019 and Budget 2020.✅✅
· Budget 2020 will increase planned investment in Higher Education by 25% compared to 2016 – an increase in the order of €370 million which brings the total to €1.88 billion funding for the sector in 2020 (increased from €1.5 billion in 2016); This €1.88 billion planned level of investment in higher education exceeds the previous peak level of planned investment of €1.78 billion made in the sector in 2008.✅✅
· An additional allocation of €153 million is being invested in higher & further education and training in 2020.✅✅
· Budget 2020 will create places for about 5,700 new students in 2020✅✅
· Have worked on the delivery of The Human Capital Initiative, which will be transformative and will invest €300 million in Higher Education over the period 2020 to 2024.✅✅
· Have asked European Commission: the Structural Reform Support Service (SRSS) for an economic evaluation of the future funding options for tertiary education in Ireland, future jobs and apprenticeships✅✅
· I secured € 3 million extra promote excellence in research in our higher education institutions. ✅✅
Capital Projects
· Major investment in Higher Education: Capital programme for Higher Education of €155 million in 2020 compared to €70.6 million in 2018.✅✅ · €369 million PPP programme for 10 Institutes of Technology / TU Dublin announced in October 2017 and now well under way.✅✅
· Planning application lodged for new digital media building at IADT Dun Laoghaire.✅✅
· €15 million approved for new Trinity College E3, engineering and environment building.✅✅
· €24 million approved in principle for DCU new Future Tech building.✅✅
· Up to €25 million approved for the UCD Future Campus Project.
· €18.75 million for new buildings and renovations at Cork IT.✅✅
· €6 million approved for redevelopment of the Royal Irish Academy of Music in Westland Row, Dublin.✅✅
Apprenticeships and Skills
· On target to double apprenticeship recruits by 2020 from 2016.✅✅
· 16% increase in the apprenticeship budget from 2018 to 2019.✅✅
· Forecast apprentice numbers to be in excess of 18,000 by the end of 2019.✅
· New professional apprenticeships rolled out to reflect the changing world of opportunities and work.✅✅
European Universities Initiative
· Launched a new academic mobility fund to encourage Irish and global universities to work together so that students and staff can work/study in various universities in a formal, structured way.✅✅
Yours in Education,
Mary Mitchell O' Connor.