On Wednesday 22, 2015 I participated in "National Job Shadow Day," an initiative by the Irish Association of Supported Employment (IASE) and RehabCare in Dún Laoghaire to promote business and equal opportunity for people with disabilities.
I spent the day working alongside Susan Murray in the Dáil. Susan assisted me with daily office tasks and joined me at an event I was paneling. I really enjoyed having her shadow me at work.
Susan reviewed her day and stated, "I visited the Dáil and got to see where all the cabinet members meet and speak. I spent most of the day with Mary. We had a chat and attended a Twitter event that Mary was involved with young people about the importance of social media. Mary introduced me at the event and told the audience that I was shadowing her that day. I got a big round of applause from everyone. There was a lot of information and I found it interesting and informative. This was my favourite part."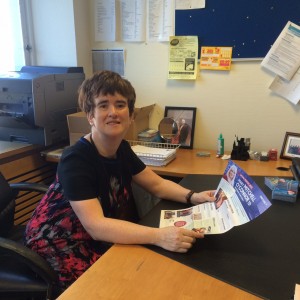 "I then got to speak by phone with Jackie, a staff member from Mary's Constituency Office in Dun Laoghaire, about the difficulties and issues around housing for people with disabilities. I spoke about my own struggles and history of advocating for myself in the past. I found it useful to talk about this as it is so important to me."
Susan is involved in Special Olympics Ireland and is a radio presenter for the 4 O'Clock local radio programme.
Susan's future career interests include customer service, hospitality, and radio or television. Susan is passionate about promoting rights for people with disabilities, especially with housing and quality of life.
Further Information: http://www.rehabcare.ie/news-events/latest-news/susan-gets-insight-into-daily-life-of-a-td