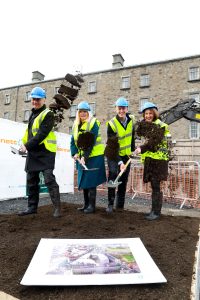 Minister Mitchell O'Connor today turned the sod on Oisín House at Trinity College Dublin.
The new purpose built student accommodation will comprise 250 bed spaces, disability services, retail units, a health unit, sports and recreation facilities and Estates & Facilities support space once complete. The overall floor area will be 12,110 square meters and the building will be six floors high.
The estimated cost of the project is approximately €30 million and the expected completion date is Q3, 2019. The project is being managed by Trinity College Dublin, and will be financed by the college's own reserves and from EIB and other commercial banks.
Minister Mary Mitchell O'Connor said:-
"I am delighted to have been invited by Trinity College today to turn the sod on Oisín House. A development which will play an important part, not only in the life of the University, but also in helping to reduce the difficulties that students are faced with in arranging accommodation during the current housing shortage.
"I launched the National Student Accommodation Strategy on this site last July and I am delighted to be back here today to see the progress of an important contribution to the targets set out in that plan.
"The target of 7,000 additional bed spaces will be met, if not exceeded and I am delighted to report that over 2,600 purpose built bed spaces have now been completed since launch of Rebuilding Ireland with a further 3,800 under construction and 5,000 more bed spaces either approved for planning or awaiting approval at the current time.
"Delivering purpose built student accommodation is not simply about reaching targets, it is about offering real choice to students and reducing the inevitable stresses which come with looking for somewhere to live.
"It is important to remember that students living in this accommodation will not only be members of the Trinity community, but will also become members of the local community in the Pearse Street area. I hope that this development will be an asset to this area and I have no doubt that the future residents of this accommodation will be encouraged to engage with the wider community".
Notes
Oisín House will be built on Pearse Street to provide 250 student rooms over a Health and Sports Centre for Trinity College. The project is bedded in its Dublin location, yet is a contemporary interpretation of that environment, working to make a new vernacular for the city. The courtyard plan can be seen as a strategic extension to the sequence of Trinity squares, yet it also acts as a public city square and will serve as a public gateway between the College and the city, bringing increased life to this relatively dead section of Pearse Street.
The form is like a granite rock with an undulating stone roof folded and shaped, reflecting the mountains in distant view to the South and, at close quarters, a grouping of ordinary Georgian roofs glimpsed in the city. It feels like a solid mass externally excavated and penetrated by routes and ways through. Its materiality reflects its form and location – a board-marked concrete working plinth supporting a granite upper world – which descends to ground floor to encase it externally, revealing the concrete core at key moments.
TCD currently has a total of 1,750 PBSA units. 600 of the units are within the campus, 200 are in Goldsmith Hall on Pearse Street and there are 950 located in Dartry. The existing on campus PBSA is currently let at rates ranging from €140 – €180 per week depending on type (single, shared, ensuite etc.). Off-campus PBA are at 100% occupancy rate.
For further information about the project visit http://www.universitytimes.ie/2017/07/government-launches-accommodation-strategy-launched-promising-21000-student-beds-by-2024/
http://mcculloughmulvin.com/printing-house-square/2017/1/19/printing-house-square