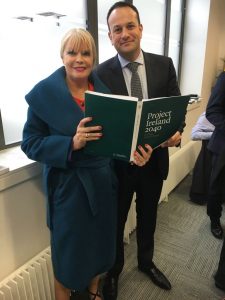 – €2.2 billion will transform sector infrastructure
– Technological Universities will be the key to regional development
I am delighted that Project Ireland 2040 recognises the vital importance of higher education to our medium and long term growth as an economy and society.
There are two priorities for higher education:
• A significant increase in the funding available to support refurbishment, maintenance and equipment renewal across the system;
• Setting up a prioritised Exchequer supported higher education building programme to:
– Build the capacity of multi-campus Technological Universities and of Institutes of Technology to deepen the talent pool for regions and to drive research and innovation;
– Generate the additional capacity necessary to support increased enrolments and address skills needs at a regional and national level, including life-long learning;
In recent months I have seen at first hand the need for investment in all our higher education institutions. The case is compelling and overdue.
In parallel I have been steering the Technological Universities Bill through the Oireachtas. The Bill's enactment is now very close.
Technological Universities and investment in higher education in each region will have a crucial role to play in delivering the skilled and talented people that sustains enterprise clustering and new investments.
The Government's ambition for the regions will be met by investing in making places attractive for enterprises and developing deeply rooted sectoral clusters and collaborations built around higher education.
Technological Universities will be the beating heart of the regions.
We're going to deliver eleven major infrastructure projects around the country as part of a PPP programme for higher education at Athlone IT, IT Blanchardstown, IT Carlow, Cork IT, IADT Dun Laoghaire, GMIT, Limerick IT, Letterkenny IT, IT Tallaght, IT Tralee and Waterford IT.
I am also working with institutions to ensure that private finance will also play an important role in the delivery of infrastructure in the higher education sector.
Over the ten year period of the NDP, the 7 universities plan projects (including those awaiting sanction) with total investment of over €3 billion to be funded with a mix of own resources, borrowing, philanthropy and Exchequer grants.
Examples of projects being planned by universities include:
• UCC: new business school, student accommodation, upgrade and expansion of Tyndall Institute, new dental hospital;
• DCU: enhanced capacity in teaching, research and innovation; new student centre, new sports facilities, additional accommodation and 21st century Digital Campus;
• TCD: New business school, E3 learning foundry, student accommodation, Trinity Technology and Enterprise Campus;
• NUIG: New student residences, completion of the Human Biology building and other campus upgrades;
• UL: New student centre, sports facilities, new student residences;
• NUIM: International Centre for Science, Technology and Innovation, new student residences, refurbishment of South Campus;
• UCD: New Teaching and Learning building, Science Centre Phase 3, Centre for Creative Design.
Project Ireland 2040 is an enormous step-change for higher education in Ireland.
The future is bright for our students and society.