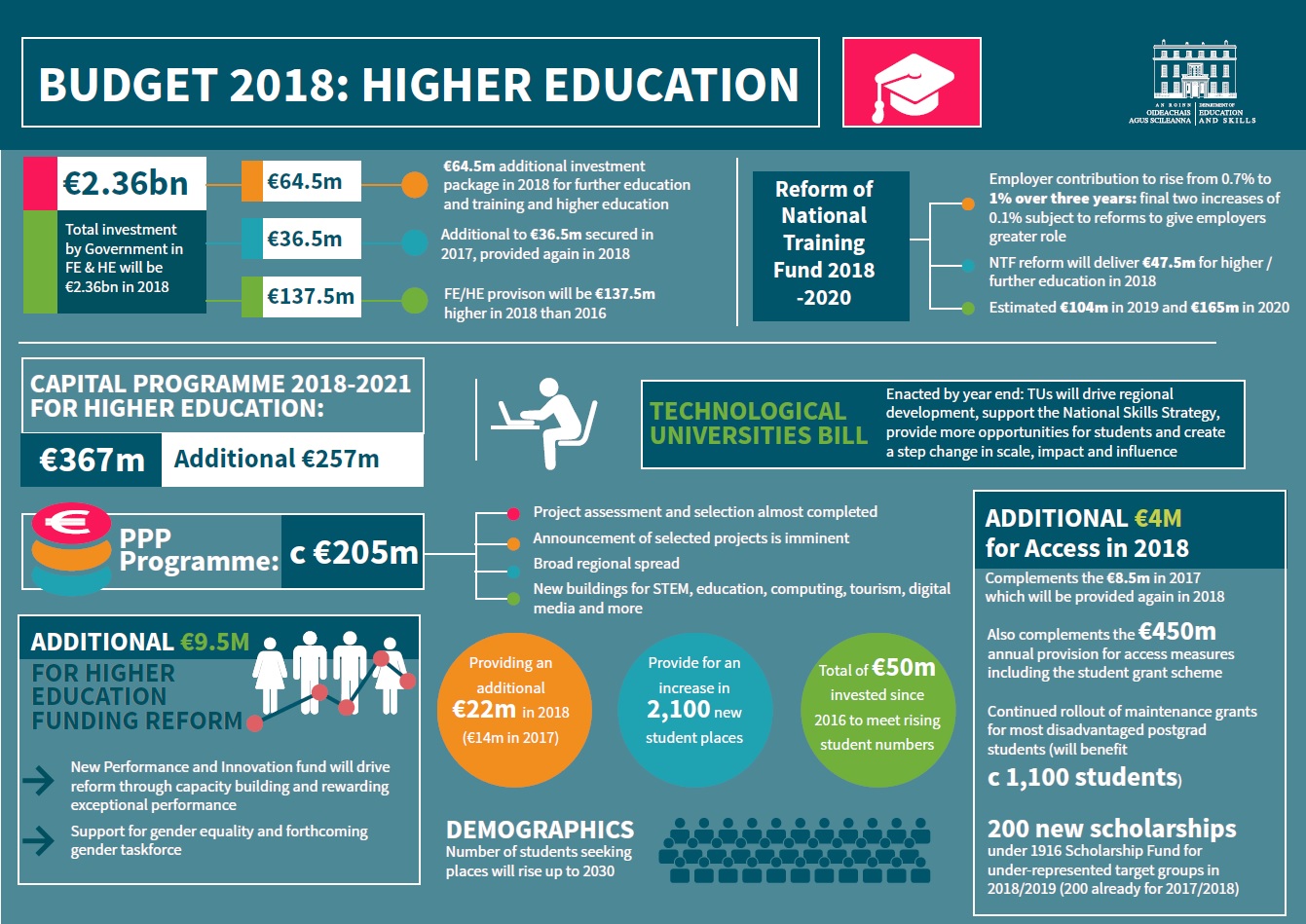 After a relatively short time in the Department of Education, I am delighted to be able to announce a comprehensive major new investment in current and capital spending on 3rd Level education.
This includes a significant increase in capital investment in Higher Education over the remaining period of the Capital Plan.
The Exchequer envelope over the period 2018-2021 will be increased from €110m to €367 million.
This is in addition to the €200m worth of projects which are being selected to progress as part of a Public Private Partnership Programme for the higher education sector.
These combined investments will now put us in a position to make real and substantial progress in addressing the infrastructure deficits in the sector – expanding capacity in areas of key skill needs, driving regional development, orienting for demographic growth, and ensuring that core campus infrastructure is fit for purpose.
"The new investment will also support the development of Technological Universities across the country. It is my intention to have this Bill passed by Christmas and the first applications for designation will follow the enactment of the Technological Universities Bill.
I am delighted that we are responding to the increasing demographics and are providing an additional 2100 student places in higher education. The opportunity now exists for more students to avail of further education.
Throughout my career, I have been a strong advocate of opening up our Third Level institutions for students from disadvantaged communities and we are continuing to invest in broadening access to higher education. We are providing an additional €4m for access measures in 2018. This complements the €8.5m that was provided in 2017 and which will be provided again in 2018. It also complements the funding of €450m that is provided on an annual basis by the Department for access measures including the student grant scheme.
On the reform of the National Training Fund reform it is my intention to continue constructive dialogue with employer representatives to ensure the closest possible alignment of their needs and programmes run under the Department of Education.I am also providing funding to support greater gender equality in the sector and the forthcoming work of the Gender Taskforce."