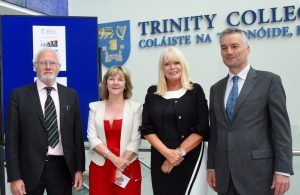 Minister Mary Mitchell O'Connor being greeted by the Provost Dr. Prendergast, Prof Hennessy and Prof Gill at the launch of the National Academic Track for Internship, TCD, Dublin. Photo: David Coleman
Distinguished Academics and HSE representatives. And to the new head of the Trinity School of Medicine, Prof Michael Gill.
I am truly delighted to be invited here this morning, to meet with you all as you embark on one of the most exciting developments in Irish medicine and innovation. And especially on the morning that this esteemed campus is named as one of the most beautiful on the planet! Congratulations!
Continue reading Opening Address: Trinity College Dublin – THE NEW ACADEMIC TRACK FOR INTERNSHIPS →